Trending:
"It sounds alarming": Skabeeva worries about Western military aid to Ukraine and hints at a long war. Video.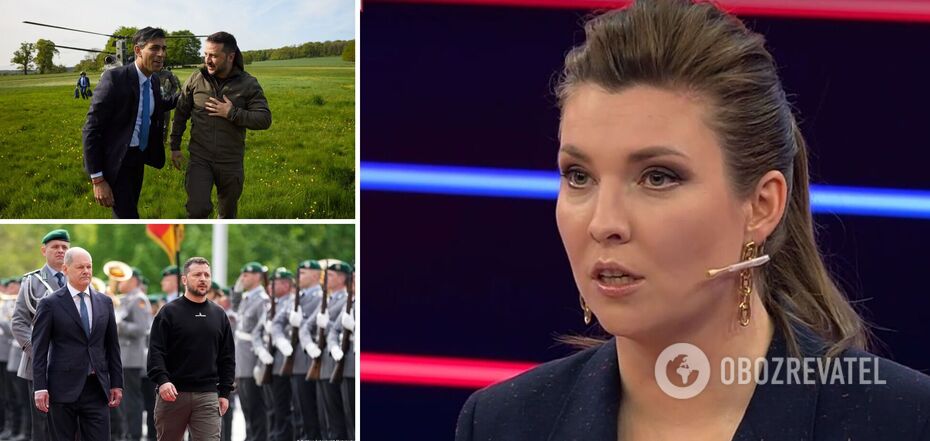 Skabeeva worried about strengthening of Ukrainian army
Russian top propagandist Olga Skabeeva was worried about the military assistance to Ukraine provided by Western partners. Without the same enthusiasm, she listed for a long time what Ukrainian President Volodymyr Zelenskyy had brought back from his trip to several European countries.
The propagandist tried to console herself and the "guests" of her programme with the hope that the increased assistance could be explained by the fact that Zelenskyy was given a "last chance" and that if the counter-offensive failed, the West would "leak" him, but she had to admit that the Russians' dreams of a "blitzkrieg" could be put to rest. A fragment of the propagandist's monologue on the federal channel was posted online.
Thus, judging by the drooping faces of the propagandists, the results of Zelenskyy's meetings with the leaders of Italy, France, the United Kingdom, and Germany came as a painful surprise to the aggressor state.
"Zelenskyy is indeed taking home several military aid packages at once: a French "bag" with ammunition and missiles, among other things, a British one, Germany is also supplying tanks and the US is also transferring Abrams - not directly to Ukraine, to the Poles, but nevertheless, Ukrainians will be trained on them. From which we can conclude that both American tanks and aircraft will be delivered to Zelenskyy in the near future," Skabeeva listed with a gloomy look.
She tried to console herself and the Russians by suggesting that this was a kind of "parting gift" from the West to Zelenskyy before Europe and the United States, according to Russia's dreams, refuse to help Ukraine and force it into peace talks with Russia.
"And there is a feeling that they gave him the last chance. The counter-offensive was postponed, new weapons were promised, he was pumped up - and then they said: "Go ahead! If you succeed, then you will sit it out, then something will be left of Ukraine. No? We'll turn you in," Skabeeva let her imagination run wild.
However, she immediately stopped herself, referring to China's "alarming" statement that Beijing sees no prerequisites for a quick end to the war in Ukraine.
"But this very Chinese statement, if we have been talking about it so much, does sound alarming. Even if the Chinese are saying in no uncertain terms that there will be no peace - and we have to take this seriously - there will be no peace, everything that is happening now is for a very, very long time. This applies to all our citizens, who sometimes have the illusion that it will be resolved quickly. It won't. It won't," Skabeeva said.
In recent days, Zelenskyy has visited a number of European countries and held important meetings there.
On Saturday, May 13, he arrived in the Italian capital, Rome. There, the Head of State had an audience with Pope Francis after meeting with Italian President Sergio Mattarella and Prime Minister Giorgia Meloni. "We agreed on weapons and air defence," Zelenskyy summed up the results of his trip to Rome and his talks with Mattarella and Meloni.
On the morning of Sunday, May 14, he arrived in Berlin, where he met with German President Frank-Walter Steinmeier and Federal Chancellor Olaf Scholz.
Zelenskyy called on the German chancellor to support the efforts of several of Kyiv's allies to deliver fighter jets to repel the Russian invasion and assured that Ukraine "does not attack Russian territory" because the Ukrainian army has neither the time, nor the strength, nor the weapons, nor, most importantly, the desire for such an attack. All Ukraine is interested in is the liberation of its territories.
In the evening of the same day, Zelenskyy arrived in France and met with President Emmanuel Macron in Paris.
During the meeting, the two leaders discussed Ukraine's key needs and steps towards NATO. In particular, they discussed the protection of the skies over Ukraine and weapons for the Armed Forces of Ukraine.
From Paris, Zelenskyy travelled to London, where he held negotiations with Sunak. The UK Prime Minister said that the UK would continue to support Ukraine, and on the same day, it was announced that the UK planned to provide Ukraine with hundreds of air defence missiles and hundreds of combat drones with a range of over 200 km.
Only verified information is available in our Obozrevatel Telegram channel and Viber. Do not fall for fakes!