Trending:
Forget about them! Clothing prints that can age you 10 years have been named. Photo.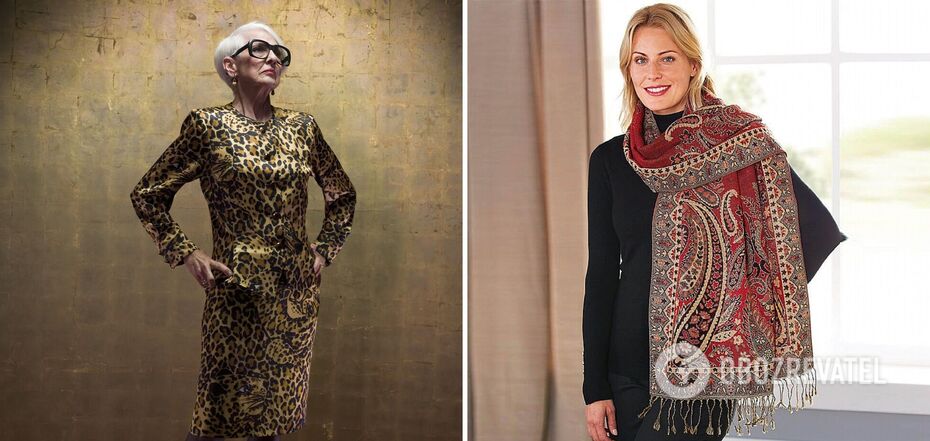 Clothing prints that can age you by 10 years
Creating a stylish look is a complex and multifaceted science. You need not only to understand trends and anti-trends, to be able to combine different textures and colours, but also to know how a particular print affects our appearance. It's no secret that the right colouring can stretch the silhouette, emphasising all the advantages of the figure, and the wrong one, on the contrary, can visually increase your volumes or affect the dullness of the face. But that's not all! Some prints can age you by at least 10 years. And who wants to look older than their years?
That's why OBOZREVATEL suggests figuring out which clothes with which patterns are best avoided if you want to look fresh and young. We will also tell you what is the best way to replace such prints.
Large flowers
If you think that a dress or shirt with large flowers on it makes your look feminine and delicate, you are wrong. All such a print can "add" is extra pounds and years. Moreover, large flowers on clothes are considered a sign of bad taste and are not associated with a stylish trendy look. If you want to leave flowers in your wardrobe, choose small patterns, but do not overload your outfit with details - make sure you have free space on your clothes.
Animal prints
This year, many Ukrainians returned to the leopard print when they organised a flash mob to celebrate the transfer of German tanks to Ukraine. However, it is no longer fashionable to wear it in everyday life. If an animal print is applied to clothes made of low-quality fabric or complemented by inscriptions and other elements, there is a high risk of looking vulgar and tasteless. However, there are a number of rules that will allow you to wear leopard sometimes: avoid revealing silhouettes, necklines, etc. and use this print in a measured way.
Black and white polka dots
Many people already know that large polka dots are a completely unfortunate choice of colour, which can make even the slimmest beauty look bigger. However, not everyone knows that such a black and white print also emphasises all wrinkles on the face (even if they are minor), uneven skin tone, dark circles under the eyes, and puffiness. However, you can wear small polka dots. However, it is still better to refuse the black colour. Instead, look for pastel colours that will give your face a noticeable glow.
"Turkish cucumber"
The paisley print is considered a cult print. It is also known by the names "Turkish cucumber" or "tears of Allah". But no matter how iconic it may be, all such ethnic motifs look unstylish today and can also make you look older. Very often girls wear paisley scarves, handkerchiefs and scarves, but it is better to choose monochrome accessories.
Infantile prints
Nothing ages you like clothes that are not your age. T-shirts with princesses and Mickey Mouse, blouses with bows and sweaters with teddy bears should definitely be left in the past. If you have them in your closet, pass them on to your younger sister, give them to your daughter or someone else who is under 12 years old. Instead, wear clothes with abstract and geometric patterns that will look status, elegant and interesting.
Earlier OBOZREVATEL wrote about things for spring that age all women after 40. Such clothing weighs down the silhouette, shortens height and adds a dozen years.
Only verified information is available in our Obozrevatel Telegram channel and Viber. Do not fall for fakes!