Trending:
"Cover me, please": Lukashenko admits how Putin asked him to help kill Ukrainians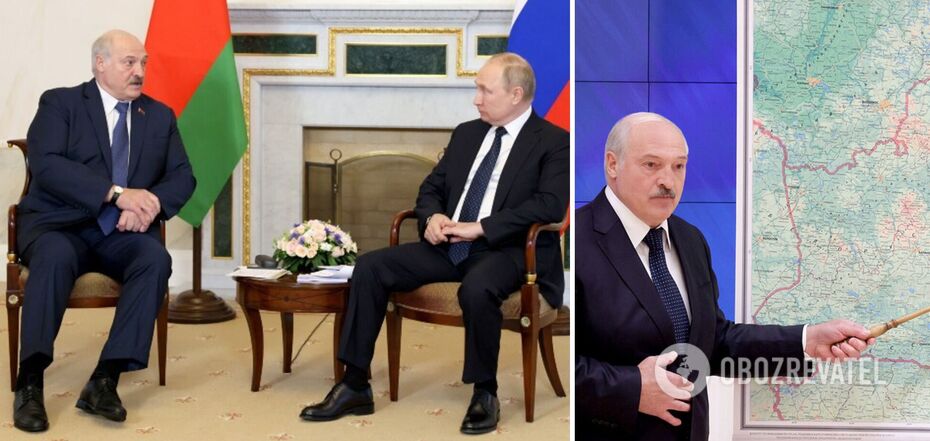 Lukashenko talks about his conversation with Putin and shows a new map
The self-proclaimed president of Belarus, Alexander Lukashenko, has admitted that before the start of the full-scale war in Ukraine, Russian dictator Vladimir Putin asked him for help in killing Ukrainians. A few days before the "SVO" launched by the Kremlin leader, the following phrase was heard in their conversation: "Cover me, please".
Lukashenko said this in an interview with Ukrainian traitor and Russian propagandist Diana Panchenko. The dictator noted that he had met with Putin at his country residence a few days before the start of Russia's full-scale invasion of Ukraine (to watch the video, scroll to the end of the news).
"Listen, Sasha, you know, this is the situation if, God forbid, something happens, well, we are allies..." Of course, we are allies, everyone knows our agreements: if someone is fighting against Russia, we go to war, if they are fighting against Belarus, we are the only army actually created here," Lukashenko said in his conversation with the Russian president.
"If something happens... (Putin's words - ed.)". I said: "Listen, what can happen?". - "Well, anything can happen. Please cover me," the self-proclaimed leader of Belarus said.
Lukashenko also brought his favourite map to the interview, on which he began to show how Russia would allegedly "grind" Ukrainians.
"I have drawn this map for you on purpose. Russia will grind you. Ukraine as a state, our state, will not exist," said the accomplice of the main war criminal of the Russian Federation.
He also added that Putin would become the next president of Russia.
Earlier, Belarusian dictator Alexander Lukashenko suddenly announced that he had instructed to "improve relations" with Poland, which he had previously accused of preparing the aggression. He stated that Belarus and Poland are neighbours, and "neighbours are not chosen, they are from God".
Poland responded to Lukashenko's similar statement about his intention to improve relations between the two countries. They noted that there is a simple way to do this: the Belarusian authorities must stop attacks on the border and release political prisoners, including Poles.
As reported by OBOZREVATEL:
- Chinese Defence Minister Li Shangfu, who arrived on an official visit to Belarus, presented Lukashenko with a porcelain tea set. The dictator was visibly delighted with this generous gesture and said that he would send the set to a Belarusian factory so that they could learn how to produce cups like in China;
- captured Belarusians who fought on the side of the Russian occupiers against Ukraine appealed to Minsk dictator Alexander Lukashenko. Two prisoners of war asked the self-proclaimed president to take them home.
Only verified information is available on our Obozrevatel Telegram channel, Threads and Viber. Don't fall for fakes!