Trending:
Woman gave up just one drink and lost 38 kilograms. Photos before and after the transformation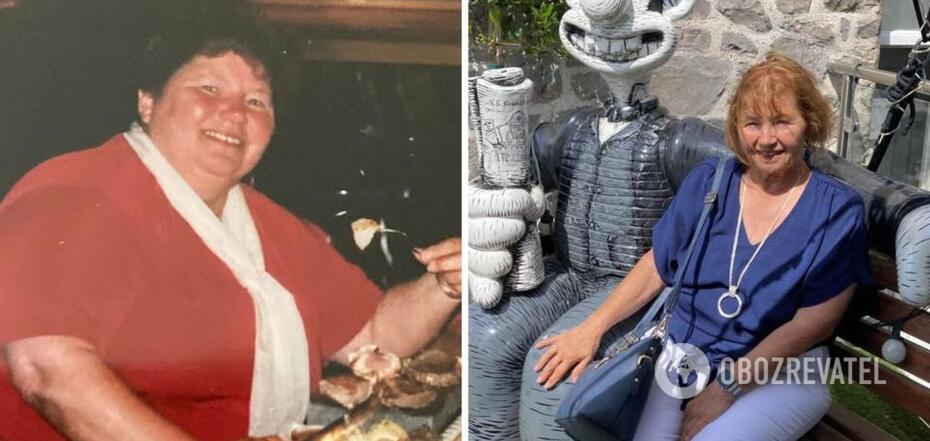 Angela Dimmer gave up one drink and lost 38 kg
In 2007, Angela Dimmer from Bristol, England, lost her husband John. At the time, she weighed 109 kilograms. However, her weight gradually began to increase and her health deteriorated. The fact is that almost every night she drank two glasses of wine, or even more. As a result, doctors diagnosed Angela with diabetes.
When her health problems and excess weight simply could not be ignored, she decided to change her life once and for all. The first thing she had to do was to give up her favourite alcoholic drink, which accompanied her in the evenings after her husband's death. OBOZREVATEL decided to tell how the Englishwoman overcame her journey and show how she has changed.
"I have always been overweight, but when I lost my husband, my weight started to creep up. I realised I couldn't walk normally. I was always in pain and couldn't stand for long. Eventually, I was even diagnosed with diabetes... I used to love to drink. Red and white wine was my favourite drink. I never drank on Mondays because they say you should always have a dry day, but I enjoyed a few glasses of wine on other days of the week, and maybe more on weekends. I probably drank about four bottles of wine a week," Angela admitted.
As for nutrition, there was no very unhealthy food in the woman's diet. She, like everyone else, could occasionally indulge in McDonald's, but mostly ate regular food. However, the portions were slightly larger than standard. However, it became obvious that the main reason for the weight gain was wine, or rather its regular consumption.
Weight gain, constant weakness and pain when walking also affected the Englishwoman's morale. As an adult, she realised that she did not respect or love herself at all. Angela hated to buy new clothes, and if she did, she always chose baggy clothes: huge T-shirts and sweatpants.
However, everything began to change after I gave up wine. An additional motivation to change was a holiday trip to Dubai.
"At my age, it was my last attempt to lose weight, so I decided to try a diet. It was a huge incentive for me to see my dress size and weight on the scales go down. Now I can walk four miles three times a week, and I've joined a gym where I take aqua fit and circuit training classes. I had never done this before. Now I can't sit still for long. I like to walk," the woman said.
Angela gave up wine and stopped eating potatoes and cow's milk. Thanks to the right diet, she managed not only to lose 38 kilograms by the time she was 77, but also to defeat diabetes. Now the Englishwoman has great-grandchildren, but she never stops taking care of herself: her figure, health and inner state.
"It's amazing that I can go to clothes shops and buy what I like. I wear things I wouldn't have chosen before, and it's so much fun to shop. I have a completely new wardrobe," the 77-year-old said.
Earlier, OBOZREVATEL wrote that Briton Liv Ralph lost 30 kilograms in a year. The girl was bullied at school, called Hagrid, and the boys didn't even want to look in her direction. Now the blonde conquers social media with her beauty.
Only verified information is available in our Obozrevatel Telegram channel and Viber. Do not fall for fakes!