Trending:
Tina Karol personally handed the Pope the diary of little Yehor from Mariupol: why Ukrainians are not happy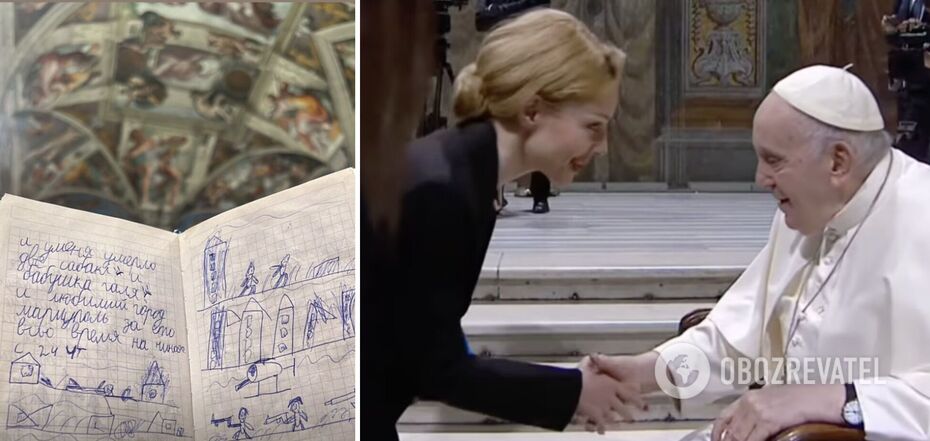 Tina Karol criticised over gift to Pope
Ukrainian singer Tina Karol met Pope Francis at the Vatican. The Ukrainian singer gave him the original diary of a little boy Yehor from Mariupol, whose lines she often read out at concerts. The child's notes were also quoted by Ukrainian President Volodymyr Zelenskyy.
Ukrainians harshly criticised the performer's decision, as they doubt the Pope's support. In comments on Instagram, they said the singer simply threw the diary away (scroll to the bottom of the page to see the photo).
"To His Holiness Pope Francis today I was given the original diary of the boy Yehor from Mariupol, in which there are no childhood dreams, for the dream of survival he writes about cannot be considered childish. The tearful lines where Yehor writes that his "dogs, his grandmother Halyna and his beloved town Mariupol died today" are paralysing in their tragicness. Yehor prayed that if his family had to die, let them with him, that he wouldn't be left on his own," the star wrote.
The video shows the Pope leafing through the gift and then shaking the singer's hand. It was impossible to make out the pontiff's words because of the noise.
Ukrainians did not like the presentation of little Yehor's diary at all. They recalled all the questionable statements of Pope Francis and said that such an iconic thing should have been kept in Ukraine.
"It's a pity you threw away that diary. It would have been better to give it to the museum of the Ukrainian war, but the Pope will destroy it," "It is only for us that this diary is important. There is evil in the cassock. It's a waste of time", "You threw it away anyway", "They found someone to give it to", the Ukrainians wrote.
The performer later wrote that she gave the diary to Yehor's family at their request, and that the digitised version would be sold. The proceeds of the auction will go to wherever the boy's family decides.
The artist also noted that a photo with a diary was published on the Pope's page, which is part of an information war against Russia.
Earlier, OBOZREVATEL wrote that Tina Karol bought a flat at her own expense for the family of 9-year-old Yehor. The new housing is now located in Ivano-Frankivsk region in the town of Burshtyn.
Only verified information on our Telegram-channel Obozrevatel and Viber. Do not be fooled by fakes!