Trending:
How to clean soot on kitchen cabinets: make the surfaces shine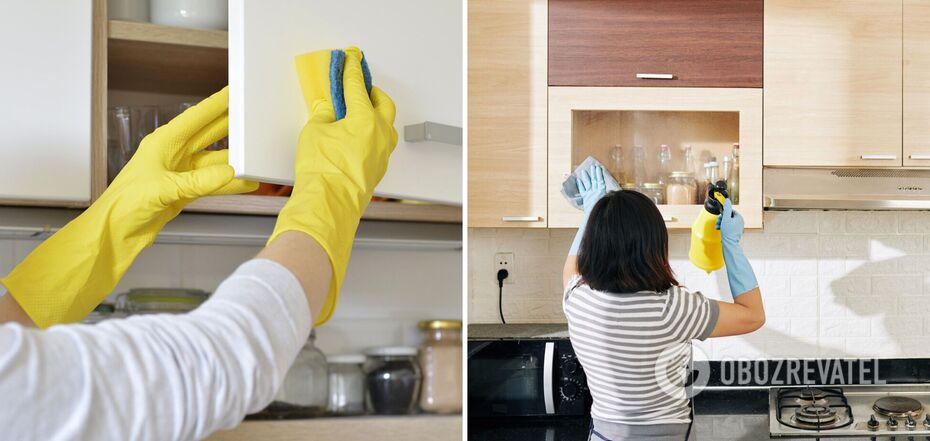 Kitchen furniture needs regular maintenance
Despite the fact that modern kitchens that cook over an open fire use relatively clean gas, traces of soot can still build up on the bottom of the top row of kitchen cabinets over time. In addition to this, moisture and grease particles adhere to the surface and dust sticks to them. And the surface, which, at first glance, should not collect dirt at all, turns into a rather sad sight over time. The facades themselves, along with the handles, suffer no less. Therefore, it is worth knowing how to clean kitchen furniture from soot and grease.
OBOZREVATEL has collected the main tips on how to cope with this problem. The general advice in this case is to clean regularly. A weekly quick care of the cabinets will be much easier and more effective than a general cleaning once a year.
Window cleaner
Any alcohol-based window cleaner will do an excellent job of dissolving the dirt that is common in the kitchen. You can use it in much the same way as for glass - apply it, wait a few minutes for it to work, and wipe the surface with a clean sponge or cloth.
Dishwashing liquid solution
Since the dirt on dirty plates and kitchen cabinets is essentially the same, you can use the same cleaning agent for them. Prepare a liquid solution of dishwashing detergent and spray it onto the fronts. Rub to remove stains and rinse with clean water.
Dishwashing liquid
If the stains are stubborn, you can strengthen the dishwashing liquid with baking soda and mustard powder. They will serve as a mild abrasive that will mechanically remove stains. To make the product, take baking soda and mustard powder in a 1:1 ratio and dilute the mixture with the dishwashing liquid to a paste. Apply a small amount of the product to a sponge and rub the stubborn stain with it. Use the product sparingly to make it easier to rinse off. If necessary, leave the paste on for 15-20 minutes.
Earlier, OBOZREVATEL told how to rub the hob so that grease and other dirt does not stick to it.
Subscribe to OBOZREVATEL's Telegram and Viber channels to keep up with the latest news.