Trending:
Home remedies for an incredible scent: the smell will fill every room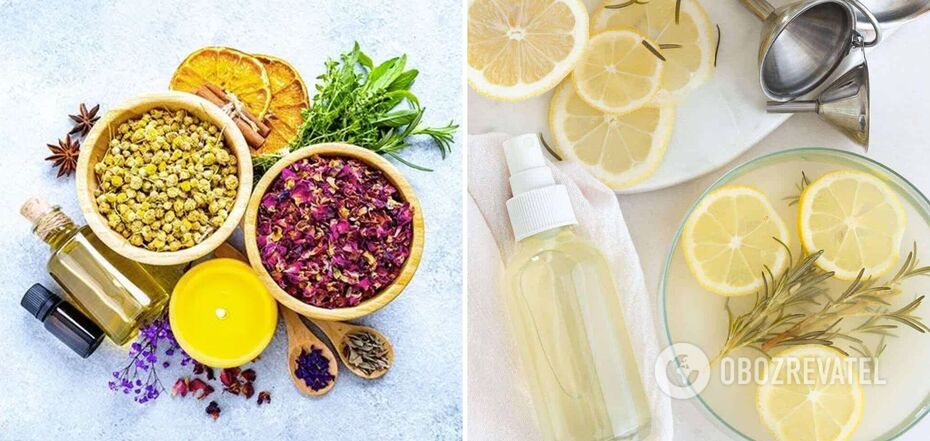 Fruits, herbs, spices and flowers will fill your home with natural fragrances
Nothing makes you feel cosy like the right scent. Think about how you feel when there's a cinnamon apple pie in the oven or someone peeling oranges. And compare it with the feeling in the same room after the floor has been cleaned with chlorine. The difference will be striking. But how do you make your home smell nice all the time? You don't have to bake pies around the clock.
In fact, there are several ways to scent a room using natural products. They were collected by Sante Plus.
Life hack with a radiator
Fragrances spread better when heated. This is the principle behind scented lamps and candles. In winter, the task becomes even easier, because almost every room has a heating radiator. To make it act as a diffuser, you can put
napkin moistened with a couple of drops of your favourite essential oil;
aromatic herbs in a linen bag - rosemary, sage, thyme, lemon balm, lavender, mint, etc;
dried peel of citrus fruits - keep in mind that cats cannot tolerate this smell;
dried or fresh slices of any fragrant fruit;
pine needles;
dried petals or heads of fragrant flowers - rose, jasmine or lavender;
fragrant spices - cinnamon, ginger, coriander, cardamom, star anise, etc.
How to make a scent blend for a radiator
To extend the life of the scent, prepare scented water for use on the radiator. Take a small ceramic or metal container and fill it with hot water. Add citrus zest and spices (cinnamon or star anise), dried lavender and lemon, or any other combination you like. Put the container on the battery and enjoy the wonderful natural smell.
How to make a homemade citrus freshener
If you're comfortable using spray air fresheners but still want a natural smell, make your own citrus freshener blend. For this you will need:
water - 500 ml;
lemon - 1 pc;
salt - 1 tablespoon.
Dissolve the salt in water. Squeeze the juice from the lemon and mix it with salted water in a spray bottle. That's it, the freshener is ready. Use it as needed. Lemon can also be replaced with an orange, a couple of tangerines or other citrus fruits to your liking.
Earlier, OBOZREVATEL talked about indoor plants that will provide a pleasant scent in the house.
Subscribe to OBOZREVATEL's Telegram and Viber channels to keep up with the latest news.