Trending:
Vasco Translator - a new generation of smart translators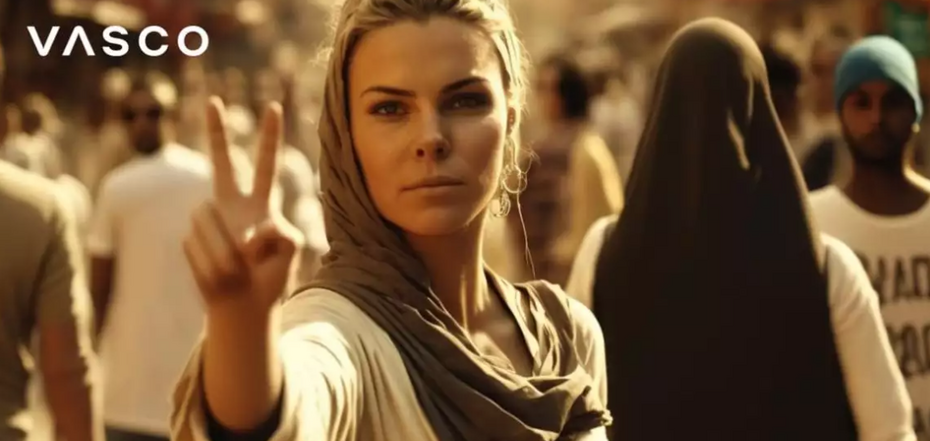 Vasco Translator - a new generation of smart translators
Learning languages is not your forte? Modern technologies eliminate the language barrier, allowing you to travel freely, communicate with friends and family from anywhere in the world, visit museums and restaurants with confidence that you will be understood.
Photo translation function, free Internet with built-in SIM card, 96% accurate and understandable translation, comfortable and ergonomic design. What other perks can you get with a smart and portable gadget - the AI translator Vasco Translator, which has no analogues in the world?
Down with the language barrier!
Understand the menu in a Greek restaurant or the broken English of a souvenir seller from Turkey? It's easy! A rich vocabulary and the most accurate pronunciation of more than 108 languages are the significant advantages of the innovative Vasco translator.
The modern Vasco Electronics device is a revolutionary solution for fast and accurate translation, communication with foreigners, and effective foreign language learning. According to the company's founder Maciej Goralski:
"You cannot learn 109 languages, but this should not be an obstacle to travelling, communicating with foreigners, studying restaurant menus and museum exhibits in other countries."
Vasco was founded in 2008 with a noble mission: to provide advanced, autonomous translators for communication around the world. For many years, the company has been introducing innovative technologies that simplify communication in different parts of the world. Today, language translation is not the only application of the device.
The company also offers a high-quality chat service that allows you to conduct dialogues with foreigners. Another indispensable feature is the photo translator, which allows you to understand any visual information: inscriptions, road signs, menus, billboards, etc.
Speak the same language: mission and values
Speaking about the company's mission, Vasco developers quote Nelson Mandela: "If you speak to a person in a language they understand, it touches their mind. If you speak to them in their own language, it touches their heart." The company's main mission is to expand the boundaries of consciousness and capabilities of every person on Earth, to facilitate communication and understanding between people.
"We strive to make the world a better place for everyone, so that people can understand each other regardless of their background," say the creators of Vasco.
Vasco Translator V4: new features, award for the best design
The latest version of Vasco Translator V4 is a synergy of artificial intelligence, unique digital design, innovative features for fluent communication and easy language learning.
The app has already received prestigious global awards: the NY Product Design Award in the Conceptual Digital Solutions category and the Red Dot Award for Best Design in the Communication Technologies category.
The new version of Vasco Translator V4 provides free Internet access via a built-in SIM card for translations in almost 200 countries. The developers have made sure that users do not depend on the availability of the World Wide Web when they are in a particular country.
The gadget is equipped with a dialogue function with the vocabulary of 76 foreign languages. With each new model, the developers expand the list of languages. Visual translation from photos contains 108 languages. All you need to do is take a picture of the object to be translated using the built-in camera. In a second, you will receive a correct translation in a language you understand.
Instant and accurate translation, multilingual chat
The device is convenient because the translation process takes only 0.5 seconds. According to the developers, 90% of the world's population can be understood with the V4 portable translator. The number of languages is not the only advantage of this versatile device. With Vasco Translator V4, you can be sure that you will always be understood.
Clear pronunciation and accurate translation of up to 96% is the main advantage of the translator, as Vasco AI translator works with 10 engines. That's 9 more than any regular app or online translator!
How does it work? Each language pair is translated using the engine that provides the best result. Most other solutions translate into English first and then into the target language. This distorts the translation quality. Vasco Translator V4 translates immediately into the language you specify.
Another "tasty treat" of the portable translator is the MultiTalk application, where you can create a multilingual chat with up to 100 people!
Each participant chooses a preferred language in which to send text and voice messages. The app does all the translations on the go, so everyone receives messages in their native language.
Learn it and don't forget it: V4 for learning languages
"Our goal is not only to facilitate communication between people, but also to awaken a passion for learning foreign languages," say Vasco's developers.
Vasco Translator V4 can also be an effective gadget for learning languages. The device with its easy-to-read screen and ergonomic buttons allows you to enrich your vocabulary with digital cards. There are also exercises to practice spelling and pronunciation!
"Just take the device with you and speak fluently wherever you are: travelling, on business, on holiday or visiting family abroad," recommend the creators of Vasco Translator V4. The ergonomic device with a simple and intuitive interface and built-in artificial intelligence will be the best assistant in communicating with people and learning languages.