Trending:
The best diving destinations where you can see endangered species of marine life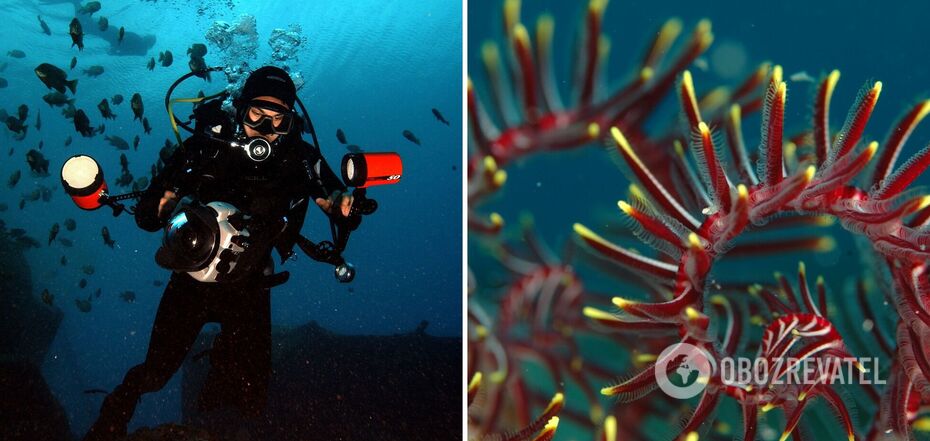 The best diving resorts in the world
If you think diving is just a hobby, you are very wrong. Thanks to this activity, people can save some endangered marine species. How exactly? It's very simple!
Every year businesses destroy rare fish for money. If diving resorts are set up in the regions where these marine animals live, it becomes more difficult to catch them for a number of reasons. So keep a selection of destinations that you can visit not only for fun, but also for the preservation of unique representatives of fauna.
Revillagiguedo Islands (Mexico)
It is not for nothing that this resort is so adored by divers. Here during each dive you can meet dolphins, sharks, whales and hundreds of other sea creatures. But people come here for a giant that is almost impossible to see in any other part of the world: the manta ray. These animals are called "sea devils" because of their huge size, which can scare anyone. But in most cases they are not dangerous to people.
These stingrays move thanks to their wing-like fins. Their wingspan can reach seven meters. Because of this body structure animals easily travel long distances in search of a good place to hunt. From time to time they can be spotted near coral reefs.
The hammerhead shark and other endangered species can also be seen near the islands. The best time to travel is between November and May.
Cocos Island (Costa Rica)
If you like extreme diving, then you need to choose Cocos Island as a vacation destination. It is here you can admire the whole packs of sharks, which have a strange habit: during the day they calmly swim in these waters and almost do not touch anyone, and at night they come out to hunt.
Of course, there are risks, so think carefully about how good a place to dive. However, do not forget that in these places you can often see a toothy hammerhead shark, whose population is rapidly declining.
The fact is that Cocos is located in the so-called triangle of hammerhead sharks, where the largest number of representatives of this species resides.
Marsa Alam (Egypt)
Have you ever heard of the plant-eating marine mammals dugongs and manatees? These animals have long been endangered. The reason is that they live in shallow waters. Because of environmental problems, the water here each year is getting muddier, disappearing vegetation, which is what these beauties eat.
However, in the resort of Marsa Alam divers often notice the dune and manatees. They are not afraid of people and do not pose a threat to them, so you can observe the animals at a fairly close distance.
Canary Islands (Spain)
Every year this resort receives thousands of tourists, but not many of them know that very close to the shores of the islands you can see rare angel sharks. These sea creatures are so unique that they are protected by law. For an attempt to catch them you can not only get a hefty fine, but also go to jail.
In addition, divers choose this resort to admire the five species of stingrays: common, round, marble, eagle and butterfly stingray. They also live in other regions of our planet, but that makes the encounter no less interesting for connoisseurs of diving.
Philippines
The warm and scenic sea of the Philippines makes this destination ideal for divers. Especially when you remember that here you can see whale sharks, mantas and endangered species of corals. So there is no better place to dive.
One of the most popular diving resorts has long been Molapaskua. Here you can dive with herring shark, the population of which each year becomes less and less. And in general, this area is almost guaranteed to meet with the endangered sea creatures.
Maldives
This resort is ideal for many water sports, including diving. There are so many giant fish near the islands that an encounter with them is almost guaranteed. Here you can see whale sharks, which have been on the endangered animal list since 2016. The fact is that they are illegally caught for the sake of fins considered an incredibly expensive delicacy. So while you can enjoy the gracefulness of these sharks, you should go to the Maldives.
Hawaii (USA)
The resort is home to nine species of animals protected under U.S. law. These include loggerhead turtles, green sea turtles, Hawaiian monk seals, fin whales, sperm whales, blue whales, etc. Of course, you are unlikely to see them all at the same time. However, there is a great chance of meeting one of these beautiful sea creatures.
By the way, monk seals often rest right on the beach. But we do not recommend to approach them closely, because they can see you danger and behave very aggressively.
Earlier OBOZREVATEL told about the best gastronomic destinations in Europe.
Only verified information in our Telegram channel Obozrevatel and in Viber. Do not be fooled by fakes!