Sickly and frail: how Usyk looked like a child and what saved his life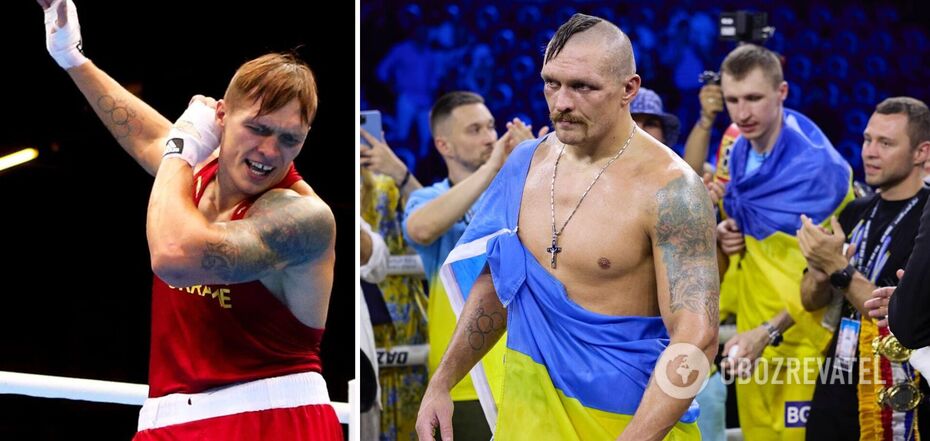 Oleksandr Usyk has grown into a strong and successful athlete
Looking at the world heavyweight champion Oleksandr Usyk, it is hard to imagine that the famous boxer was frail and often ill as a child. However, the Crimean's character, sports and faith helped him not only to stand on his feet, but also to grow into one of the strongest fighters in history.
Usyk was born in Simferopol, where he lived until he was six years old. Then he and his family moved to the Chernihiv region, where his mother was from. The future champion's relatives kept horses, and Oleksandr helped look after them.
However, in the second grade, Usyk became very ill: "I had bilateral pneumonia - a terrible disease. The doctor told my mother that I might not survive. I was ill for about a year and spent almost all that time in hospital - two months there, two weeks at home. My grandmother took me to church, I was interested: I watched and listened to the church service, I liked the smell of incense, looked at the icons."
In one of her interviews, the boxer's mother, Nadiia Petrivna, recalled the words of little Sasha's doctor: "He examined my son and said: "Son, only sport will save you from death!". And Sasha, aware of his depressing situation, made incredible efforts as a child and instilled in himself the idea that he would devote himself to sports."
Usyk started doing sit-ups, push-ups, running, swimming, and hardening himself. The only sport in the village was football, so Usyk started playing. In 2002, Oleksandr's family returned to Crimea, where he continued to play football until he joined a boxing section at the age of 15. Although Usyk's first trainer, Serhiy Lapin, did not want to take him at first because of his age and soreness.
"He was already too old for boxing. I didn't notice any special physical characteristics. He was also sickly - he had asthma, his chest was not developed. But my eldest son Serhii brought him. So I did not refuse him. I said, "Go with him and work. Serhii beat him, beat him, beat him... I thought he wouldn't come back after all those missed shots. But Sasha came! Persistent!" Lapin recalled.
It turned out that Usyk naturally feels the distance - on the subconscious, on reflex. More experienced opponents could not hit him, and at the right moment he managed to dodge, bend, and jump.
Talking about his childhood, Oleksandr did not hide the fact that he was a hooligan - he threw cans and stole apples from neighbouring plots. At school, he used to fight until the sixth or seventh grade. Although he studied well, he helped his mother milk the cows at home.
The boxer's older sister Viktoriia recalled that since childhood Sasha was very artistic, and everyone told him, "the theatre is crying for you, such a talent is wasted". It was a real problem for him to sit through the lessons at school.
By the way, it was while studying at school in a parallel class that Usyk met his future wife Kateryna.
Earlier, OBOZREVATEL reported that Fury after terrorising Usyk unexpectedly wished the Ukrainian good luck.
Only verified information is available on the Obozrevatel Telegram channel and Viber. Don't fall for fakes!