Trending:
Remove grease in minutes: the easiest ways to clean a barbecue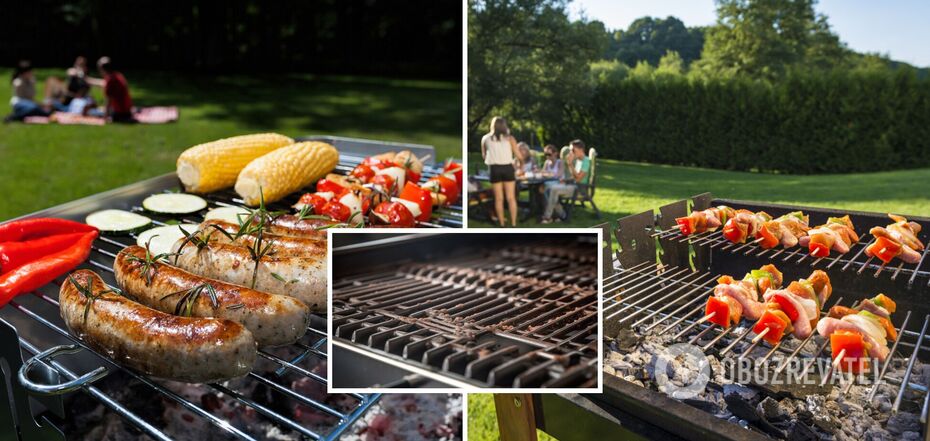 How to clean the grill and grates
The only thing that can ruin a summer trip to the countryside is having to clean the barbecue. Food remains, dirt and grease quickly harden on the grates and even expensive chemicals can not always cope with dirt.
Luckily, you can clean your grill with the natural ingredients at hand. The Express tells you the best ways to remove barbecue grease.
White Vinegar
White vinegar, because it perfectly cleans grease and dirt left on the grill. A nice bonus is that the vinegar acts as an odor neutralizer.
How to prepare: mix white vinegar and water 1:1 (you can take 0.5 liters of water and the same amount of vinegar). Pour the solution into a sprayer and treat dirty surfaces. Then wipe the grills with a sponge.
Beer
An unexpected, but, according to experts, very effective tiphook. If you have leftover beer from a barbecue, don't throw it away. Moisten a wire brush with beer and rub the grill with it. This will quickly remove grease and food debris, but it's best to clean the grill with beer while the grates are still warm.
Ketchup
Ketchup will not only fight dirt, but also rust. Pour a small amount of ketchup on the dirty area and leave it on for a few minutes. Then wipe off the residue and rinse the barbecue with water and detergent.
Baking soda
The most popular method of cleaning various types of dirt is undoubtedly baking soda. It is a versatile natural cleaner that will effectively remove burnt food and grease. Sprinkle some baking soda on the grill while still warm and make a 1:1 paste of water and baking soda. Generously apply the paste to soiled grill surfaces and scrub thoroughly with a sponge.
Coffee
A mixture of boiling water and coffee beans or old coffee grounds will quickly clean barbecue tools. Add two to three teaspoons to hot soapy water, then wipe pots and utensils with a soft sponge. Removable barbecue parts can be left in the mixture for one to two hours.
Onions
Turn on the grill.
Take a large onion and cut it in half (it is not necessary to remove the husks).
Pierce half of the onion with a grill fork and rub on the grates of the grill.
By the way, to clean the grill will help baking soda, sand, citric acid and salt. Read more in the article.
The OBOZREVATEL has told earlier how to wash the grill quickly after a barbecue and prepare for a picnic.
Subscribe to channels OBOZREVATEL in Telegram and Viber to keep up with the latest events.