Trending:
Prigozhin's plane was shot down? A white trace of air defense missile recorded in the sky before the explosion. Video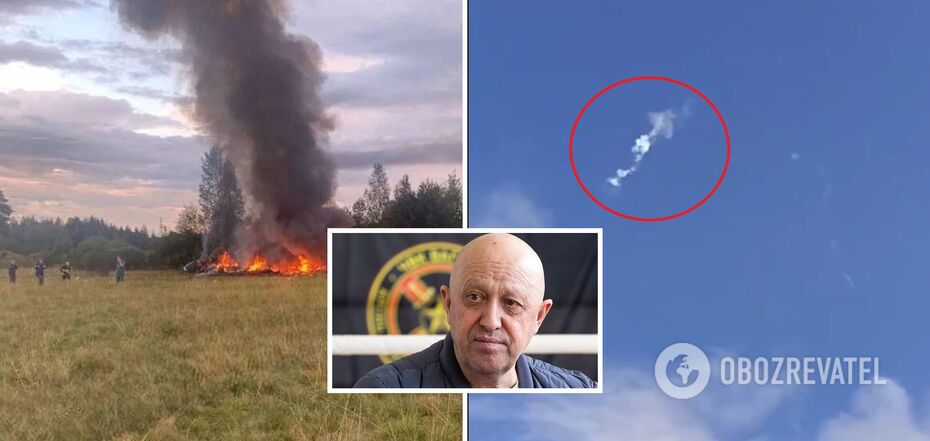 The crash of Prigozhin's plane was caught on video
The Embraer Legacy 600 business jet of the head Wagner PMC head Yevgeny Prigozhin, which crashed in Russia, could have been shot down by air defense missiles. Characteristic gas-vapor trails from air defense missiles were recorded in the sky when it crashed.
This is evidenced by the video of the moment of the plane's fall (you can watch the video on this page below). This is reported by Telegram channels Blitz and Grey Zone.
"Airplanes do not collapse by themselves in the air due to a technical malfunction. It was either an explosion on board or an air defense missile," the Blitz authors note.
It is also noted that eyewitnesses to the crash not only saw inversion trails in the sky but also heard "two bursts characteristic of air defense missiles." In addition, numerous holes that look like damage from the hit of air defense munitions are seen on the fuselage of the already fallen aircraft, the Tsaplienko Telegram channel specifies.
An alternative version could be that the explosives were on board the plane. The video shows that the plane falls vertically downward, and one wing and stabilizer are missing even before the collision with the ground. However, the traces on the fuselage do not support this version.
It is also known that the Embraer Legacy 600 disappeared from radar at 18:20. Dispatchers tried to contact the crew, but to no avail, after which air traffic controllers notified the Russian Defense Ministry and air defense units about the incident.
Video of the crash of Prigozhin's plane
As reported by OBOZREVATEL, the accident occurred in the Bologovsky district of the Tver region, 15 kilometers from the Khotilovo airbase. Currently, 4 dead are found at the site. A total of 10 people were in the airplane: 7 passengers and 3 crew members. Yevgeny Prigozhin could have been on board.
Only verified information from us on Telegram Obozrevatel and Viber. Do not fall for fakes!