Trending:
How to charge your iPhone correctly so as not to kill the battery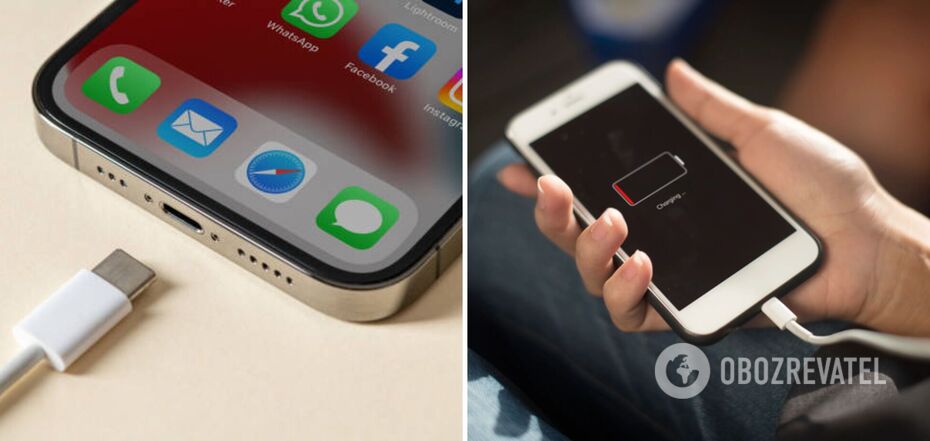 Proper charging can extend the life of your battery
In today's world of social media, staying online has become not only interesting but also critical during the war and terrorist attacks from Russia. It helps you stay up to date and keep in touch with your family, but it also leads to a quick battery drain. To protect it from rapid depletion, you should always charge your smartphone properly.
OBOZREVATEL tells you how to charge your iPhone correctly to make its battery last as long as possible.
How to charge your iPhone correctly and safely
For optimal charging, you should always use original Apple chargers or those recommended by the company, but do not use third-party chargers, even if they can charge your iPhone faster. Third-party chargers can negatively affect your battery's lifespan and reduce its maximum capacity.
It's also not a good idea to discharge the battery to 0% or keep it at 100%. Whenever possible, you should charge your iPhone when it drops below 20%, and remove it from the charger when it reaches 95%.
Whether you can leave your iPhone charging overnight
No matter what model of Apple smartphone you have, you can safely leave it charging overnight. The thing is, iPhone has an intelligent charging feature called Charging Optimisation. This feature means that your smartphone analyses how you use it and when you usually switch it on and off. For example, if you put your phone on overnight charging, it will normally charge up to 80%, and the remaining 20% will be recharged closer to the time you usually wake up. Thus, despite the fact that the smartphone will be connected to a power source for 6 or 7 hours, it will use the same amount of time to charge the battery as it would during the day.
How to switch on charging optimisation
However, the thing is that charging optimisation may not be enabled by default in the settings. To activate this function, go to Settings, go to the Battery section and then go to Battery charge and health. There, you need to enable the Charging optimisation function.
In the same section, you can find out what condition the battery is in and whether it is providing peak performance. A new battery has a 100% maximum capacity, and if you have been actively using your iPhone for several years, this figure may drop to 85-80%. If the maximum capacity is insufficient for optimal smartphone performance, it will be indicated on the Battery Health & Safety page.
Should you charge your iPhone wirelessly?
Although wireless charging can heat up your smartphone, it doesn't do any harm. However, it's important to use licensed devices, as cheap wireless chargers can drain the battery and reduce its peak performance.
Fast iPhone charging
Apple has officially confirmed that some iPhone models support the fast charging function, which allows you to charge the battery up to 50% in just 30 minutes. But this only applies to the iPhone 8 and later models.
For fast charging, you need a proprietary USB-C Lightning cable and one of the following adapters:
An Apple USB-C power adapter with 18, 20, 29, 30, 35, 61, 67, 87, 96, or 140W;
a third-party USB-C power adapter with similar characteristics that supports the USB Power Delivery (USB-PD) standard.
For fast charging iPhone 12 and newer models, a power adapter with a minimum power of 20W is suitable.
You can see the power of the adapter on its bottom or top side. Thus, you can even use a MacBook Pro charger to charge your iPhone.
Previously OBOZREVATEL told in detail about how to continue the battery life on the iPhone.
Only verified information is available on our Obozrevatel Telegram channel and Viber. Do not fall for fakes!