Trending:
He faces 12 years in prison. Forensic examination finds irrefutable evidence in the case of the world's most titled footballer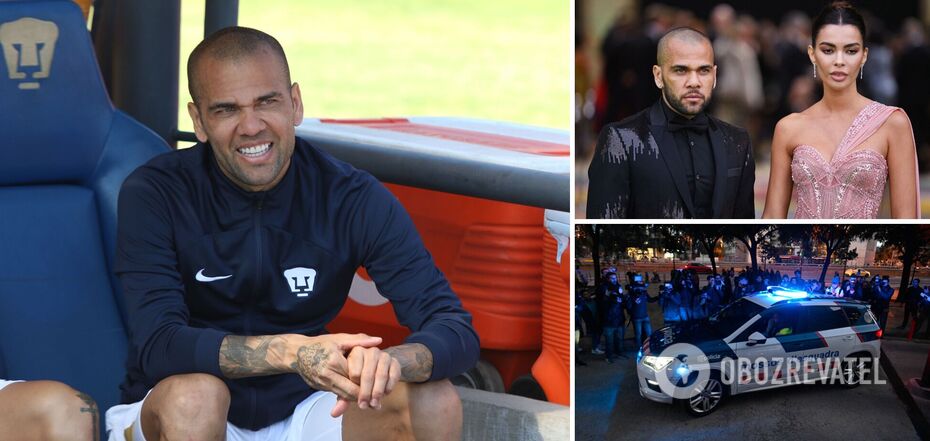 The athlete is being held in custody and is awaiting trial
DNA test results confirmed the version that legendary Brazilian footballer Dani Alves raped a 23-year-old girl in a nightclub in Spain. The forensic examination found traces of the 39-year-old athlete's semen after an intravaginal examination of the victim, as well as on her underwear and dress.
Alves, who is currently awaiting trial in a Spanish prison, has previously changed his story three times to try to avoid the punishment he faces for the crime (12 years in prison). At first, the Brazilian said he did not know the girl who accused him. Then he admitted that he had seen her, but nothing had happened between them. In the third version of the affidavit, Alves said that he had allegedly gone to the toilet when the victim attacked him and offered him a blowjob.
Now, according to the local newspaper El Periódico, citing its sources, it turns out that the third version was also false.
After the alleged attack on the same morning of December 31, the young woman was taken by ambulance to a hospital clinic, which is usually the first place where women who have suffered sexual violence go. There, the applicant underwent a forensic medical examination, during which intravaginal biological samples were taken. These samples contained traces of semen.
The applicant's underwear also contained semen. At the same time, the police carried out an inspection of the nightclub's toilet, where the events allegedly took place at around four o'clock in the morning. Traces of semen were also found on the floor and on the dress that the victim handed in to the police station when she went to file a complaint about the incident two days later.
On January 20, Alves voluntarily provided a sample of his DNA (saliva). This genetic profile was compared with all previously obtained samples. According to the result, all samples matched.
Alves has won 46 trophies in his career and is the most decorated footballer in history. Alves played for Brazil at the 2022 FIFA World Cup in Qatar, where he reached the 1/4 finals.
During his career, the defender also played for Sevilla, Juventus, Paris Saint-Germain and São Paulo. He left Barcelona at the end of last season. In 2022, the footballer signed a contract with the Mexican club Pumas.
Only verified information on our Telegram channel Obozrevatel and on Viber.Do not be fooled by fakes!