Trending:
Nourishing zucchini roll with cheese and tomatoes: just grate the vegetable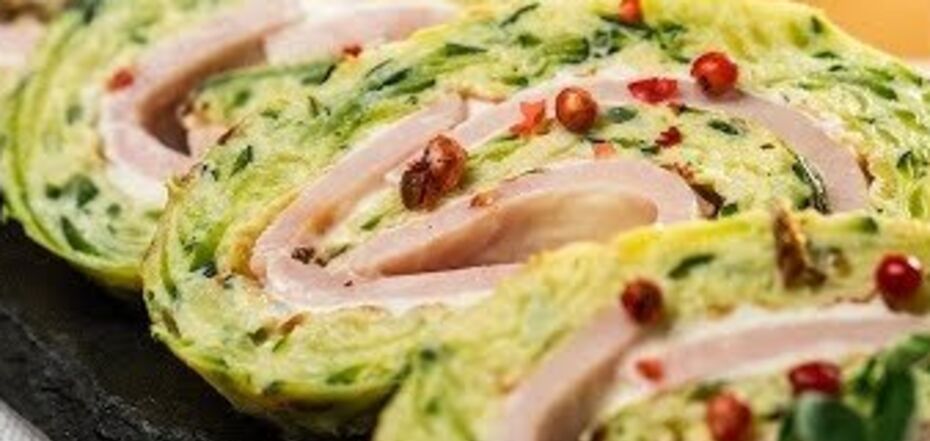 Instead. to fry zucchini in oil for a long time - make a roll-out of this vegetable. The dish turns out very hearty and nutritious. In addition, the main ingredient just needs to grate and bake. This is much faster than cooking each sliced piece individually.
The idea for a hearty zucchini roll with cheese, garlic, and tomatoes is published on the Instagram page of food blogger Daria Ivanova(eatme_daily).
Ingredients for the roll:
zucchini - 2 pcs.
eggs - 3 units
flour - 4 tbsp.
sour cream - 2 tablespoons
salt - 0,5 tsp.
pepper - to taste
Ingredients for the stuffing:
melted cheese - 3 pcs.
garlic - 2 cloves
Turkish yogurt (thick without filling) - 4 tbsp.
tomatoes - 2 pcs.
dill and onion greens
Method of preparation:
1. Grate zucchini on a large grater, salt, stir, and leave for 5 minutes. They will let the juice flow.
2 Squeeze out the excess liquid with your hands and put it in a deep bowl.
3. Mix eggs, sour cream, and ground black pepper until smooth, add to zucchini and stir. Add flour - mix.
4. Preheat the oven to 200 degrees and line a baking tray with parchment lightly greased with butter. Spread zucchini mixture, flatten, and bake for 15-20 minutes.
5. Remove the finished crust from the baking tray on a rack and leave to cool.
6. Grate the cheese and garlic on a fine grater, and add the thick yogurt.
7. Slice the tomatoes into quarters, and chop the herbs.
8. Coat the prepared zucchini crust with the cottage cheese mixture, sprinkle with herbs, and place the tomato.
9. Roll up the roll, wrap it in the same parchment, and put it in the fridge for 1-2 hours. It is very important to take exactly the quality parchment so that the roll does not stick.
Also on OBOZREVATEL, you can read the recipes: