Trending:
Writer Zhadan shared his impressions of the conversation with Zaluzny: as it turned out, he read and listened to me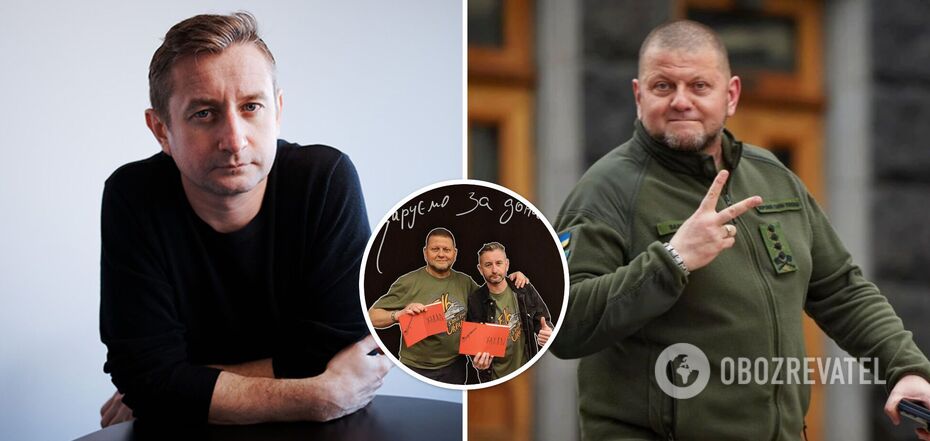 Sergei Zhadan shared his impressions of communication with Zaluzhny
The other day there were images circulated in the network, in which the famous Ukrainian poet, novelist and musician Sergiy Zhadan presents a collection of his poems to the Commander-in-Chief of the AFU Valery Zaluzhny, and the latter begins to quote the author's works in emotion. As it turned out, the general is a big fan of Zhadan's works. The writer was pleasantly surprised by this, as well as by communication with the military in general. He says that Zaluzhny is an open person with modern views and an excellent sense of humor.
Jadan shared his impressions of meeting the commander-in-chief of the Armed Forces of Ukraine in an interview with Ukrainska Pravda. He noted that he had never been personally acquainted with the general, but it turned out that he had read his poetry, novels, and listened to tracks by the band Zhadan and Dogs.
"Obviously, it pleases the author's ego. Although then you realize that it's really not as important that he quotes your poetry as it is that he reads books and that he listens to music. It's a fantastic feeling that our commander-in-chief knows what Ukrainian culture is all about," shared the author of the novels "Internat", "Voroshilovgrad" and others.
Zhadan realized that Zaluzhnyi likes the music of his group, so he even invited him to the concert, but he believes that he will visit him after the victory, because now the general has no time to go to performances. The writer admitted that the impression of acquaintance with the commander in chief he has exclusively positive.
"Personally, we have not previously been acquainted. Although, as it turned out, he read me and listened. He is quite dynamic, adequate, this is a person who is constantly in the process. Valery Fedorovich immediately began to talk about things on the front. But at the same time he has a good sense of humor. And this humor is not some kind of sarcastic, he does not devalue people, but jokes kindly. He has some constant phone conversations, conversations with his assistants, and it was quite humorous. His subordinates are just as easy to respond to. He explained to us very simply and transparently what he thought about the situation on the front and so on. Overall, the man is quite open and makes a positive impression," Jadan commented.
At the same time, the writer emphasizes that since 2014 he has communicated with many commanders and can only say good things about each of them.
"Since 2014 we have been communicating with commanders of volunteer units, and with commanders of the AFU, and with commanders of other structures - there are really very different people. There are a lot of interesting young officers there. These are people who don't live by the Soviet army regulations. They are completely modern people. They don't have that stiffness of the Soviet military that we are used to from movies and pictures and memories of our childhood. They are a completely new type of officer, a completely new type of soldier that has something behind his soul except his service weapon and epaulettes," says Zhadan.
Earlier OBOZREVATEL reported that the British actor and producer Tom Hiddleston, best known for his role as Loki in the Marvel Cinematic Universe, at a charity event in London read the poetry of Sergei Zhadan. The star visited the Royal National Theatre, located in the British capital, where an event called "Poetry for Every Day" was held.
Only verified information on our Telegram channel Obozrevatel and Viber. Do not be fooled by fakes!