Trending:
16 and Pregnant: Selena Gomez, Eminem, and other celebrities Selena Gomez, Eminem, and other celebrities who were born to teenage mothers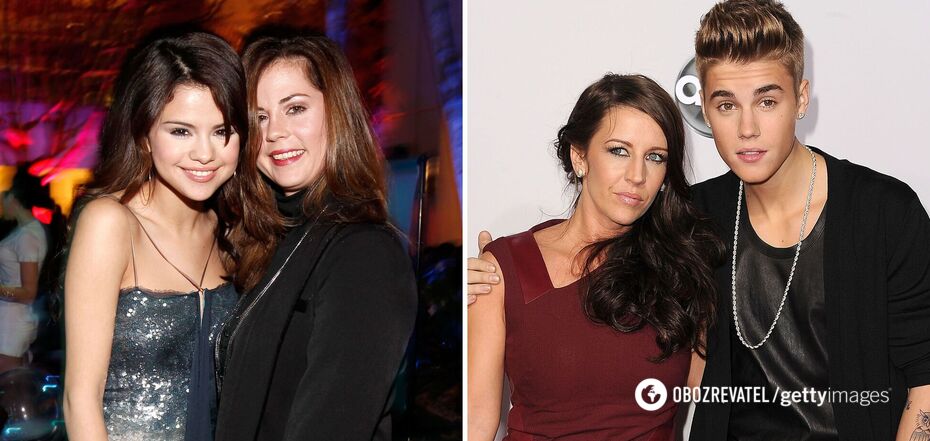 The stars that young mothers gave birth to
The birth of a child is a touching event that significantly affects the lives of parents. After that, habits, routines, and routines change. But it becomes even more difficult when the mother-to-be is still a child herself. Judgmental looks, criticism from parents (young grandparents), financial problems...
Here's a look at the courageous people who were not afraid to become parents at a young age and raised world-famous stars. Read more about them in the article OBOZREVATEL.
1. Selena Gomez (actress, singer, designer and model)
Mendy Cornett gave birth to daughter Selena at the age of 16 by a man her age. The family lived modestly. Money was often insufficient even for the bare necessities, which caused the couple to break up five years later. The mother had to get a job in 3 companies to provide her daughter with a decent life. It was Mendy who at one time instilled in Selena Gomez a love for acting and making music.
2. Justin Bieber (singer, songwriter and actor)
Justin was born to husband and wife Petty Mallett and Jeremy Bieber, who were 18 years old at the time. The relatives tried to persuade the girl to have an abortion or to give up the baby, but she decided not to.
Her mother taught Justin the artistry on stage and singing, as at one time she went to theatrical circles and professionally engaged in singing. Petty constantly posted her son's recordings on YouTube, where they were noticed by manager Scooter Brown, and helped build the artist's career.
3. Eminem (rapper, composer and actor)
Marshall Bruce and 17-year-old Deborah Meters performed in hotels. Shortly after their son Eminem was born, his father abandoned the family. The mother constantly moved with the baby from place to place. They never stayed anywhere longer than two years. All because of lack of money.
Eminem grew up, became a world-famous rapper, and released several tracks, where he "leaked" all the resentment to Deborah. In 2014, for Mother's Day, the musician released a music video Headlights, where he apologized to his mother and said that he loved her.
4. Jack Nicholson (film actor, director and producer)
June Frances Nicholson gave birth to a son at the age of 18. The girl dreamed of continuing her career as a dancer and singer, so she hid the pregnancy, and after giving birth she returned to active life. Grandmother Ethel recorded the baby as her own child, but 36 years later, actor Jack Nicholson learned the truth.
In 1974, a reporter for Time revealed some hidden information: The celebrity's "big sister" was actually his mother and his "parents" were his grandparents. Then it was too late: June died of cancer in 1963, and Ethel was gone seven years later - in 1970.
5. Curtis James Jackson III (50 Cent; rapper and actor)
Curtis Jackson's mother gave birth at the age of 15. The father of the future celebrity immediately left the girl: as soon as he found out about her pregnancy. As a result, the boy's upbringing was mostly handled by his grandmother, and his mother sold illegal substances to provide for the child. According to 50 Cent's recollections, his mother tried to compensate for her absence from home with expensive gifts. At the age of 23, she was gone. The woman was murdered and the perpetrator was never found.
Earlier OBOZREVATEL wrote about how Hollywood stars looked during their first red carpet appearances.
Only verified information in our Telegram-channel Obozrevatel and Viber. Do not be fooled by fakes!