Trending:
Supercomputer names Champions League winner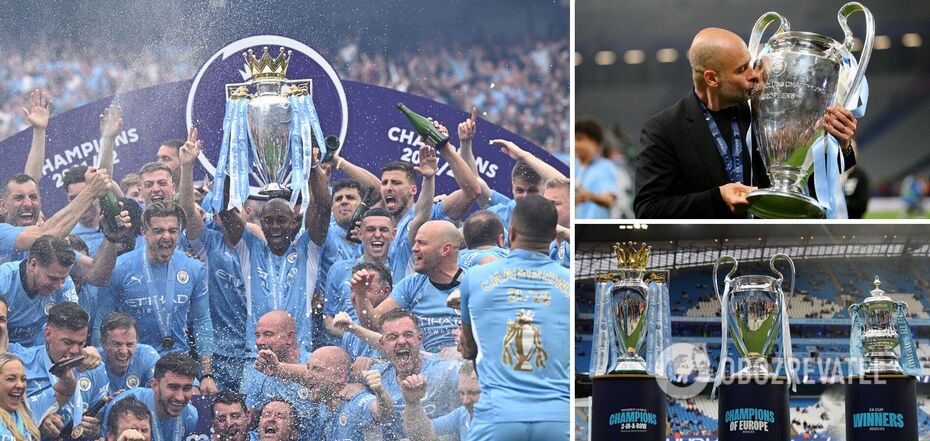 The decisive match will take place in London next year
Opta used a supercomputer to run 10,000 simulations of the Champions League matches of the 23/24 season, which resulted in a forecast for the tournament winners. Manchester City, the current holder of the "ear" cup, is a clear favorite in the new draw. The probability of their victory is 38.9%.
Bayern Munich (10.9% ) and Arsenal (8.7% ) are considered to be the strongest rivals of the Pep Guardiola treble winner.
After two decades away from the tournament, Newcastle now has a better chance of winning than European PSG heavyweights, AC Milan and Dortmund.
Guardiola's team, which won its first four Premier League games this season, has been further strengthened by having the easiest group of all English clubs as their rivals, according to the average ranking of each of our power rankings.
"Manchester City have a huge chance of reaching the last 16 (98.5%). "RB Leipzig is seen as the only team that can get close to them in Group G, but the Bundesliga side should not be a concern for Manchester City after Erling Golan scored five goals in a 7-0 win in the playoffs last year. Manchester was also relegated to Group G last season before achieving historic success in the treble.
Last time out, City did not lose in 13 matches of the tournament. The history of the CL shows that Cup winners rarely get eliminated early. Indeed, the only time the reigning champions failed to advance from the first group stage was when Chelsea failed to do so in the 2012-13 season.
Guardiola's team is a European veteran at this point and is preparing to start its 13th consecutive season in the Champions League. They have been incredibly consistent, reaching the playoffs in each of the last 10 campaigns.
Even reaching the last eight - an impressive and unlikely feat for most clubs - is seen as an almost pre-determined outcome (84.4%).
"Manchester City has a 69.0% chance of reaching the semifinals, with more than half (55.1%) of simulations showing they will make it to the final. Their overall win percentage is 38.9%, which excludes any other scenario.
Only verified information is available on our Obozrevatel Telegram and Viber. Don't fall for fakes!