Trending:
"Three Chocolates" Cheese easter cake: How to make a quick Easter dish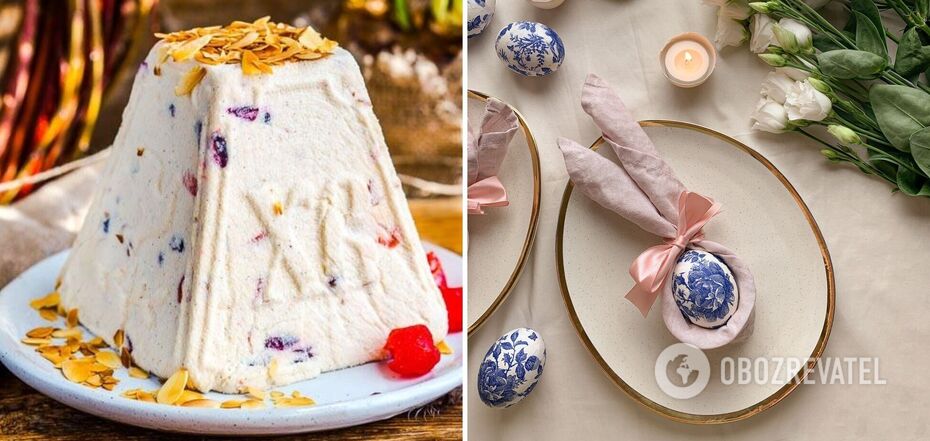 Cheese easter cake
If you want to make a delicious and simple Easter cake without baking for the Easter holiday, choose cottage cheese rather than dough. For a bright flavor, you can add chocolate, and preferably 3 kinds, so the dish will be much tastier.
Culinarian Anna shared on Instagram a recipe for a delicious 3 chocolate cottage cheese Easer cake, which is very quick and easy to make.
Ingredients:
cottage cheese - 500 g
butter - 100 g
sour cream - 100 g
powdered sugar - 100 g
vanilla - to taste
white chocolate - 60 g
dark chocolate - 60 g
milk chocolate - 60g
Method of preparation:
1. The cottage cheese, soft butter, sour cream, powdered sugar and vanilla are blended and well beaten with a blender. Divide the mixture into 3 equal parts.
2. Lay out a mold in a comfortable bowl, cover with gauze folded in 2 or 3 times, or muslin.
3. Add melted chocolate to each part of the cheese mixture, mix and place it in a mold one by one. Wrap with gauze, put a weight on top and place in the refrigerator overnight.
4. Unwrap the gauze and carefully invert the cake onto a plate. Remove the gauze, garnish and serve.
You can pour melted chocolate on top of the pastry!
Also on OBOZREVATEL you can read the recipes:
<a href="https://food.obozrevatel.com/vyipechka-i-desertyi/shokoladnaya-paska-s-tsukatami.htm" target="_blank">Chocolate Easter cake with candied fruits</a>
<a href="https://food.obozrevatel.com/vyipechka-i-desertyi/tvorozhnyij-kulich.htm" target="_blank">Cottage Cheese Pastryr</a>