Trending:
Saved 80 people near Bakhmut: a young commander escaped from Lysychansk, held on for the sake of his family and died in the battle for the fortress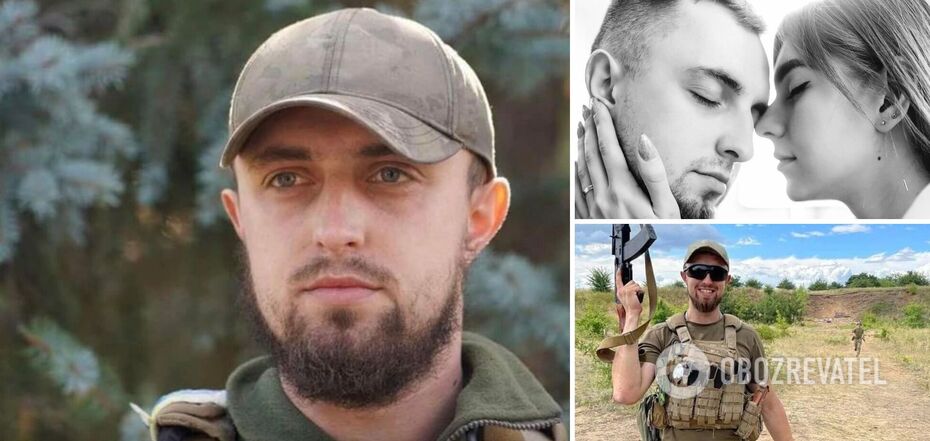 Volodymyr Lavreniuk's parents and beloved were waiting for him at home
Volodymyr Lavreniuk, a candidate for master of sports in sports tourism with the call sign "Barney", was among those who bravely defended Bakhmut and took his last breath there. At the end of 2022, the determination of the young commander from the 2nd Company of the Poliska Sich Battalion saved the lives of 80 comrades. However, the hero himself is now 25 years old forever.
Volodymyr was a graduate of the Faculty of Physical Education and Sports of the Ivan Franko Zhytomyr State University, graduating with honours. Lavrenyuk fulfilled the necessary qualification requirements for a candidate for master of sports at the Ukrainian Cup in sports ski tourism.
After the start of Russia's full-scale invasion, Volodymyr first voluntarily joined the Zhytomyr Territorial Defence, and later joined the Armed Forces in March 2022.
It turned out that "Barney" had a talent for military affairs. Lavreniuk began his military career as a commander of a platoon, with which he took part in battles with the occupiers in the hottest spots of Donetsk and Luhansk regions.
Speaking to НВ Radio about his platoon, Volodymyr noted that the people in it were completely different: "There were furniture makers and those who had contracts worth half a million hryvnias per object. They dropped everything and came to the military enlistment office, eager to defend their Ukraine. There are young guys who were abroad at the time of the invasion and also left their jobs with a salary of 3500-4000 euros and came here to defend the country."
Lavreniuk also frankly admitted that he had both highly motivated people under his command and those who spoiled the picture - they did not understand why they had come to serve and were addicted to alcohol: "I don't know how military commissariats selected them. And we have to fight with them".
Nevertheless, the Barney platoon fought hard. For example, they held their positions near Popasna in the Luhansk region until the last moment. Volodymyr and his comrades ensured that other soldiers withdrew to a safe zone 30 km away from the city that had been almost completely destroyed by Russia.
Volodymyr said that in Donbas, the occupiers were fighting better than in the first weeks of the war in the Kyiv and Chernihiv regions.
"They took the full measure in the northern part of Ukraine and fled, while more regular troops, contractors, mercenaries, Wagner, Chechens are coming to the Luhansk direction. There are already fighters who know how to fight. But it's okay, they're also being cleared out," Lavreniuk said in the summer.
"Barney" and his comrades went through fierce battles for Lysychansk and was grateful to the commanders who got the soldiers out of the city in time and did not leave them in trouble.
Lavreniuk believed that it would be difficult to liberate the lost towns of Luhansk Oblast, as the only people left there were those who were waiting for the "Russian world". However, he was confident that Ukraine would regain its territories: "It's okay, it will be a little harder, but we will manage it."
"Barney" was valued for his bold actions and courageous decisions, and soon became the commander of the 2nd Company of the Poliska Sich Battalion, having authority and respect among his subordinates and superiors alike.
Volodymyr received a shell shock and a light injury at the positions near Midna Ruda in the Bakhmut district of Donetsk Oblast. But he did not want to stay in hospital and asked to be discharged in two days to return to his soldiers.
"They follow him because he always thinks about the personnel. He's only 24, but everyone listens to him, no questions asked!", - people said about "Barney".
Lavreniuk is best characterised by the situation when, under heavy fire from superior enemy forces in the village of Vesela Dolyna near the already legendary Bakhmut, he decided to withdraw his personnel and thus saved the lives of 80 of his comrades.
It all started when militants from the Wagner PMC managed to sneak through a sunflower field and seize the positions of Volodymyr's company. But under the cover of night, the company's forces successfully recaptured their positions. Barney was called to the battalion command post when the enemy launched another offensive against the company's positions with significantly superior forces.
The command believed that it would be impossible to retrieve the soldiers in such a situation. But "Barney" was not going to sit in the rear while his comrades were on the verge of death or capture: "If I don't go to my people now, they will all die."
Volodymyr immediately went to the place where the fierce battle was taking place and brought his comrades to safety. That's why, when talking about their commander, the soldiers never tired of repeating: "If it wasn't for Barney, we would not be here today."
When asked how to avoid going crazy in hot spots, Volodymyr replied: "I know that my parents and girlfriend are waiting for me at home. And I motivate myself in such a way that I need to end this war as soon as possible in order to return home alive, in one piece, in a morally and spiritually 'sober' state - the way I was. Of course, there are changes in my behaviour, but I am motivated by the fact that they are waiting for me at home."
However, unfortunately, neither his family nor his beloved waited for their hero. On February 8, it became known that Lavreniuk was killed during a combat mission in Donetsk Oblast.
"Rest in peace, what a pity that the war took someone like you - the best. I love you with all my heart," wrote the defender's fiancée, Oksana Sladkovska.
Earlier, OBOZREVATEL reported that a well-known handball player died near Bakhmut while saving the life of his comrade.
Only verified information is available on the Obozrevatel Telegram channel and Viber. Don't fall for fakes!