Trending:
Once is enough: How to feed strawberries for a rich harvest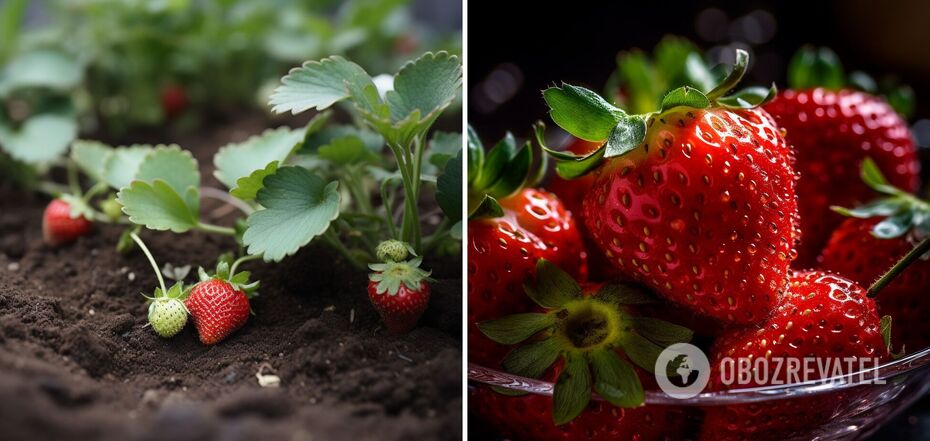 Even frail plants will recover and give a good harvest
Strawberries are a favorite berry of Ukrainian gardeners. It tastes great fresh and makes almost the best jam, it can also be added to various dishes and drinks. But if you want strawberries to grow well, they need proper nutrition.
As OBOZREVATEL found out, you can do without fertilizer during the season. But to do this, you will need to prepare a special mixture. It is added in the spring before the flowering of strawberries.
To make the solution will need:
water;
0.5 teaspoon of boric acid;
0.25 teaspoon of manganese;
13-15 drops of iodine;
2-3 tablespoons of ammonia alcohol.
Add boric acid and manganese to a third of a bucket of hot water and mix well. Next, the bucket is refilled to full with cold water and iodine is dripped into it. The solution should again be stirred properly. At the last stage, ammonia alcohol is added and everything is stirred again. The resulting liquid should be light pink in color.
Apply such fertilizer by watering. Under each bush of strawberries you need to pour 300-400 ml of the mixture. It helps to restore the strength of even stunted plants, and the berries then grow large, sweet and juicy.
Previously OBOZREVATEL told how to prepare nutrition for grapes.
Subscribe to OBOZREVATEL channels on Telegram and Viber to keep up with the latest news.