Trending:
How to easily clean your microwave from old stains and get rid of unpleasant odours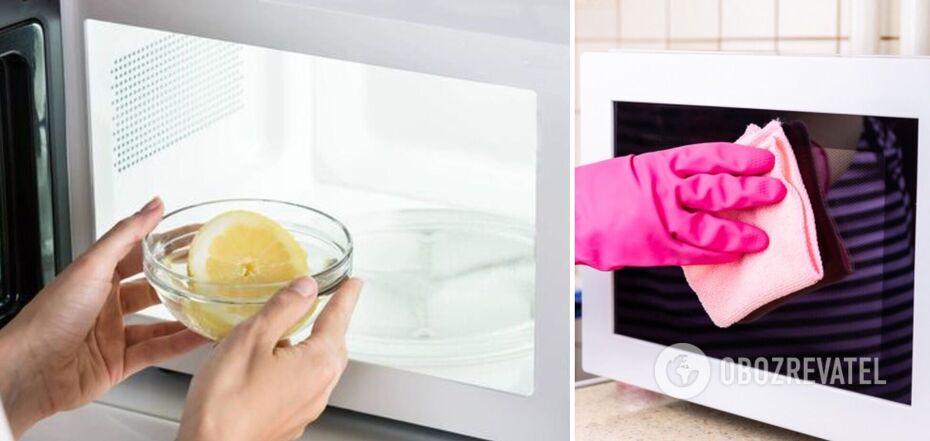 Cleaning your microwave is not as difficult as it may seem
Microwave ovens have long been a fixture in Ukrainian kitchens. And although they have recently become more of an interior piece than a kitchen appliance due to blackouts caused by terrorist shelling from Russia, they still sometimes manage to perform their intended function. That's why the question of how to clean the microwave from dirt inside and get rid of the unpleasant smell as easily as possible and without spending a lot of time is becoming relevant again.
OBOZREVATEL talks about life hacks that will appeal to any owner. Its main advantage is that you don't need to use any chemicals, and you will hardly get your hands dirty.
How to clean a microwave
Cleaning the inside of a microwave is much easier than it looks. To do this, you will need a bowl of water, a few slices of lemon, lime, orange, and apple cider vinegar or regular vinegar.
Squeeze a little citrus juice into the bowl of water and throw in the pieces of fruit (you can also use citric acid) that you have. After that, add a little vinegar to the water and put this "drink" in the microwave on high power for a few minutes. Watch for the water to boil and the door glass to fog up. Then switch off the microwave and leave it for about 5 minutes to cool down. Then you just need to take out the container with the liquid and wipe the inside of the microwave dry. To do this, use a clean towel made of lint-free fabric or a paper towel.
How to get rid of a bad smell in the microwave
Sometimes you can remove the smell left behind after reheating food by simply leaving the microwave open for a while. If the smell does not disappear, do not despair. Ordinary baking soda will help you. Simply pour a few spoons of baking soda into a bowl, a low glass or even a saucer and place it inside the microwave. There is no need to switch on the microwave, just let the baking soda sit for an hour or leave it overnight, and in the morning just take the baking soda out and enjoy the results.
How to remove old stains in the microwave
To get rid of old stains, pour baking soda on them and rub it into the problem area with a damp cloth. Then simply remove the remaining baking soda. Repeat if necessary.
How to clean stains on the microwave door
Cooking and reheating food can also stain the microwave door, but fortunately, it's easy to clean it too: sprinkle a damp sponge with baking soda and wipe it over the door. Don't be lazy and wipe down the edges, the outside of the door and even the seals. Afterwards, wipe everything down again with a damp cloth. If the dirt is old, mix equal parts water and vinegar and wipe the door with this solution. Then simply wipe it with a damp cloth and dry it. Vinegar will not only get rid of stains, but also clean the door from bacteria.
Earlier, OBOZREVATEL told what foods are strictly forbidden to heat in the microwave.