Trending:
Candlemas: when is it celebrated and what is special about this date, traditions and prohibitions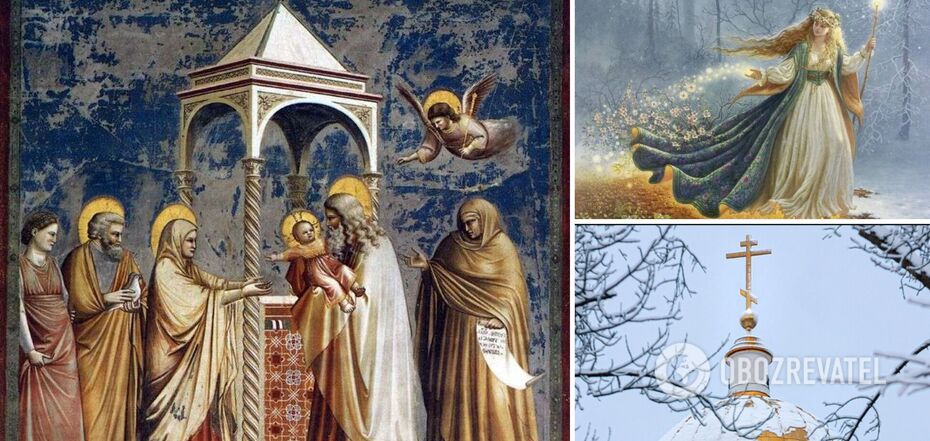 Candlemas is celebrated on February 15
According to the old style, the Presentation of the Lord is celebrated on February 15. This is the day on which, according to belief, winter and spring meet.
The holiday originated in honour of the presentation of the baby Jesus to the temple in Jerusalem. It happened on the 40th day after Christmas. Read about the traditions and peculiarities of the Presentation of the Lord in the OBOZREVATEL article.
The history of the holiday
Jesus was met in the temple by the elder Simeon. He performed the rite of initiation and is considered to be one of the witnesses of the Saviour's divine origin.
Simeon blessed the family and said to Mary: "Behold, This One is lying for the fall and rebellion of many in Israel and for a cause of contention, and a weapon will pierce Your soul, and may the thoughts of many hearts be revealed."
After that, Simeon was called the Godreceiver.
Traditions of the holiday
On February 15, churches hold services. Believers bring candles and water to the church to bless them. It is believed that such candles can protect the house from any misfortune. The water blessed on the Feast of the Presentation has healing properties and helps to treat pain and remove the evil eye.
On this day, it is customary to have lunch with the whole family, forgive each other all insults and show maximum attention.
What not to do on February 15
Traditionally, on the day of the Presentation of the Lord, you cannot do needlework (sew, knit, embroider), physical labour, quarrel or swear.
Also, on February 15, it is advised not to travel and not to leave money on the kitchen table.
Omens
Candlemas is a special day for weather forecasts, as on this day winter and spring go hand in hand. Our ancestors believed in such signs:
If it is warm and sunny, the spring will be warm.
If it snows on the day of Candlemas, spring will be delayed and cold.
If water drips from the roof on the Feast of the Presentation, winter will be long.
Wind on Candlemas - expect a good harvest of fruit trees.
As OBOZREVATEL previously reported, Ukraine celebrates Maslenitsa from 20 to 26 February 2023. Read what each day of Cheesefare Week means.
Subscribe to OBOZREVATEL's Telegram and Viber channels to keep up to date with the latest news.