Trending:
The Elixir of Youth: Mila Kunis, Anne Hathaway and other celebrities who haven't aged with age. Photo then and now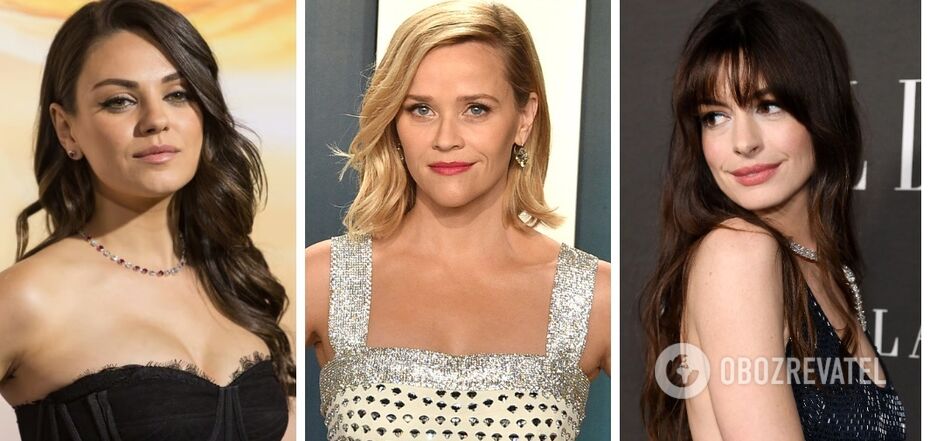 Secrets of movie stars' youth.
Age is not a sentence. Especially if a person takes care of his appearance beforehand: does not abuse fast food, sweets and alcohol, does not smoke, drinks enough water and is not lazy to do sports. This is the minimum necessary to stay beautiful and young. The genetic lottery alone is not enough.
We tell you how beautiful starlets manage to look 10-15 years younger than their real age. Read more in the article OBOZREVATEL.
1. Mila Kunis (39 years)
Actress and model Mila Kunis began her career in 1994. Her most popular roles are in "Black Swan", "Max Payne", "Sex and Friendship" and "The Odd Man Out". Now this star is 39 - and she looks terrific. Not much has changed. Except she has become more confident. For this Mila often goes to the gym (5 times a week), almost every morning does yoga, takes care of thoroughly moisturizing her skin and does not forget to apply masks to her hair. In her off-screen life she hardly ever uses makeup. In addition, the actress does not eat baked goods, fat and sweets.
2. Halle Berry (56)
American film actress and model Halle Berry began conquering catwalks and the film industry in the late 1980s. She became popular for her roles in "Tropic Fever," "Catwoman" and "X-Men". In order to have a trim figure and well-groomed face with age, Hallie completely abandoned processed sugar, bread and fatty foods at a young age. She chose a diet that included lots of vegetables and pure water. Her favorite dishes are fried tuna and garlic mashed potatoes.
The actress also spends a lot of time exercising. She doesn't work out with a lot of weight. Unless it is a prerequisite for a role in a movie. She usually does cardio and exercises with her own weight.
3. Anne Hathaway (age 40)
American actress and singer Anne Hathaway seems to have used a time machine to arrive in 2023 from the late '90s. What is the secret of her youth? The actress devotes a lot of time to sports. It is cardio training, dancing and running. And to keep her skin looking good, Anne regularly goes to a cosmetologist and maintains a water balance. She also follows a vegetarian diet and adds jalapeño sauce (a medium-sized variety of hot pepper) to her dishes, which improves her metabolism.
4. Reese Witherspoon (age 47)
American actress and producer Reese Witherspoon at her 47 has well-groomed skin and an athletic, trim body. Active lifestyle and systematic training help her in this. "I don't believe in the magic of strict diets. I constantly exercise to stay healthy," Reese said in an interview. In addition, the celebrity drinks a lot of water and protects her skin from the harsh effects of the sun.
5. Beyoncé (age 41)
American R&B singer and dancer Beyoncé knows that good nutrition should be a priority for women's health and beauty. She usually eats porridge for breakfast, fish and salads for lunch, and fruits and vegetables for dinner. The celebrity does not go to the gym, because there is an alternative - many hours of daily rehearsals and regular dance classes.
OBOZREVATEL previously wrote about LP, Tilda Swinton, Lady Gaga and other stars with androgynous looks.
Only verified information on our Telegram-channel Obozrevatel and Viber. Do not be fooled by fakes!