Trending:
How to clean a shower stall: ways to get rid of mold and lime scale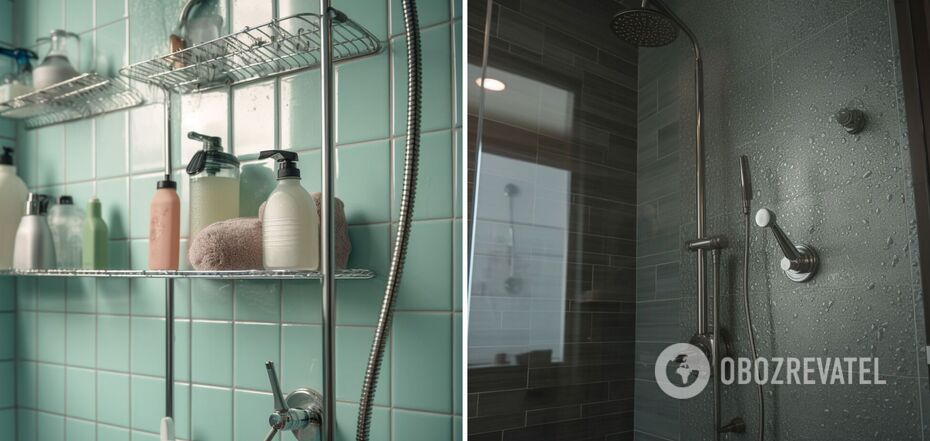 Glass parts of the shower enclosure are not easy to keep clean, because due to constant contact with water, the glass is covered with lime stains. Also high humidity in this area, combined with soap residues, can provoke the development of mold and bacterial contamination, which can cause an unpleasant smell.
However, some products can simplify the care of the shower cabin. OBOZREVATEL tells you the best way to clean it.
Dishwashing liquid
Dishwashing liquid is specially created to wash away different types of dirt, both organic and mineral, and make the surfaces shine. The key is not to go overboard with the amount of liquid used. After washing, the glass should be wiped dry with a lint-free cloth like a microfiber cloth.
Home remedies
The most common eco-friendly cleaning agents - vinegar and baking soda - will also cope well with typical shower stall dirt. Here's how to best use them for this.
Vinegar is best used diluted with water in a 1:1 ratio. This liquid with a spray gun or a rag is applied to the surface and left to act for 15 minutes. After that, you just need to rinse the vinegar and wipe the glass dry. The same product can be used to clean tiles or trays, faucets and sanitary ceramics.
From baking soda is good to make a cleaning paste. To do this, dry powder is mixed with a small amount of water, then applied to the dirty surface and leave for a few minutes. Then the baking soda paste is washed off. It can also be used to rub stubborn stains. Or spray a vinegar solution on top to make an active scouring foam.
Water-repellent Coating
There are special products that create a water repellent layer on the surface of the glass. These can be used to treat the shower enclosure to reduce the number of cleanings required. This coating can be renewed as needed.
Chemical cleaners
If the dirt is persistent and covers the cabin quite a thick layer, then you can not do without powerful chemicals. Thus, complex lime scale can be removed with liquids containing hydrochloric acid, and mold - sprays with a significant content of chlorine. Such means can affect the respiratory organs and eyes, irritate the skin, so when working with them is better to use all the necessary protection - gloves, goggles, respirator.
Previously OBOZREVATEL told how to wash off soot and return the luster of glassware.
Subscribe to the channels OBOZREVATEL in Telegram and Viber to keep up with the latest developments.