Trending:
Gates of Hell, Death Valley and more: 10 most dangerous tourist destinations in the world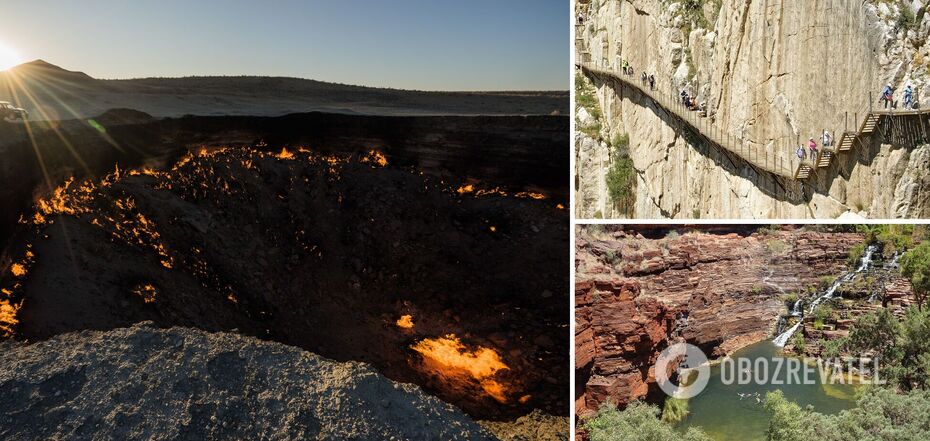 Tourists like to travel to dangerous places
Not all travelers are looking for a relaxing and pleasant vacation somewhere on the shores of tropical islands or in five-star resorts in Europe. Demand for extreme travel to dangerous and scary places on Earth has grown again after the pandemic restrictions were lifted.
Tourists decide to go on excursions there at their own risk, as accidents often occur in these places. Stars Insider editors shared the 10 most dangerous destinations (scroll to the bottom of the page to see photos).
Gates of Hell, Turkmenistan
The Darvaza gas crater, also known as the "Hell's Gates", was formed in the 1970s when geologists drilled a cave to search for oil, causing a natural gas field to collapse. To burn off the poisonous gas, they set it on fire.
Death Valley, USA
Death Valley is located in California among dunes, rock salt spires, and salt marshes. We can only sympathize with inexperienced and weak tourists who find themselves here in the height of summer.
Villarrica, Chile
Villarrica is one of the most active volcanoes in South America. It last erupted in 2015, spewing ash and lava up to a height of 1000 meters. Nevertheless, tourists still like to get close to the crater, testing their nerves.
Huashan Mountain, China
Mount Huashan has long been a place of pilgrimage in the Chinese province of Shaanxi. It is known for a huge number of steep and dangerous trails that snake around the mountain. It is very easy to fall off them, so travelers should be careful.
Karijini, Australia
Karijini National Park is a pearl of Australia, adored by locals and tourists alike. However, there is an important nuance: Karijini often suffers from adverse weather conditions and rockfalls, which have already led to fatal incidents.
Skellig Michael, Ireland
A rocky island off the coast of County Kerry was once home to monks. There is nothing remarkable here except for the incredible views, dangerous paths stretching over the water, and a few buildings. If you accidentally fall into the water, there is no turning back.
El Caminito Del Rey, Spain
The fragile bridge, built between 1901 and 1905, attracts adrenaline junkies from all over the world. The wooden steps hang just above the abyss, but hundreds of tourists pass through every day, some of whom have died before crossing.
Everest, Nepal
Even though travelers have repeatedly died and been injured trying to climb to the top of the world's highest mountain, Everest remains one of the most popular extreme destinations.
Devil's Pool, Victoria Falls
During the dry months of the year, the Zambezi River becomes shallow enough to reveal an incredible pool at the edge of the world's tallest waterfall, Victoria Falls. Swimmers dive into the water at their own risk, as they can be swept away by the current.
Half Dome, USA
A rock popular with tourists is one of the symbols of Yosemite National Park. Half Dome is known for being very difficult to climb. In 2019, one tourist tragically died after falling from a height of 150 meters.
Earlier, OBOZREVATEL spoke about mysterious places that haunt historians.
Only verified information is available on Obozrevatel Telegram and Viber. Don't fall for fakes!