Trending:
Which cars are better to sleep in: models to choose for camping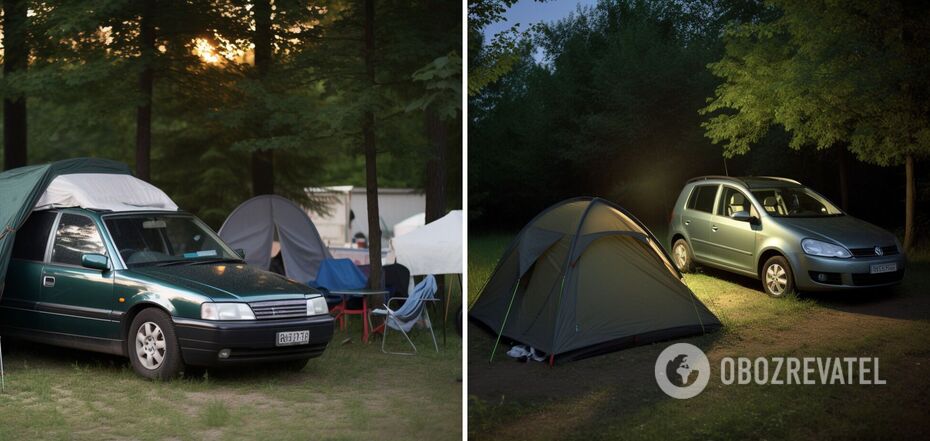 You can sleep comfortably in these cars for the night
Road trips are becoming increasingly popular. They are cheaper than tours, are not tied to a specific place and allow you to see more non-standard locations. However, if you go on a long trip, it is important to have enough space for sleeping to stop at car camping sites.
Engineerie has compiled a list of top cars that will be comfortable to sleep in.
Full-size crossovers
Volvo XC90
With the rear seats at the initial position, the XC90 has enough space for seven passengers. If you fold them down, you can lie down with comfort. The model's suspension system is designed to withstand rough terrain and keep you safe.
BMW X7
The BMW X7 can seat seven passengers or become a comfortable sleeper just like its predecessor. The X7 is packed with impressive features like a power tailgate, heated seats, cruise control, sunroof, separate charging ports and rear touch buttons, making it the perfect vehicle for camping and sleeping. However, it's worth noting that the X7 is an expensive option because of its premium offerings.
Toyota Sequoia
The Japanese automaker's model combines reliability and comfort. With the rear seats folded, it provides 3,400 liters of cargo space. Thus there will be a place to put equipment or a sleeping bag. The Sequoia boasts a powerful yet fuel-efficient engine and a host of impressive features.
Chevrolet Suburban
With the rear seats folded down, this full-size SUV offers more than 3,400 liters of space. The vehicle also boasts enhanced off-road capability. However, it doesn't save fuel.
Kia Telluride
You can carry up to 8 people in the brainchild of the Korean car industry or fold the rear row of seats and turn it into a sleeping area. Its luggage compartment is one of the most spacious in its class.
Chrysler Pacifica
The model's front and middle seats can be adjusted to suit your needs. The front and middle seats can be folded down so that they can be used as a comfortable sleeping area. In addition, it is a reliable and economical car.
GMC Acadia
The safety and reliability of the car will provide passengers with a restful night's sleep in a comfortable, spacious cabin. However, the third row of seats in newer models will have to be removed to provide a flat floor.
Ford Expedition
The Ford Expedition is a great camping vehicle because its large size provides plenty of room for a comfortable night's sleep. Meanwhile, the V8 engine provides versatile handling and the Eco-Boost feature provides optimal fuel economy. The model will also surprise you with high-tech features to keep you entertained and connected while traveling.
Compact crossovers
Subaru Forester
The spacious interior of the car provides extra space for sleeping, eating, lounging and storing your travel gear. The Forester has a powerful engine that handles the road easily and provides a smooth ride, making it quite comfortable to drive. But the model's large windows may seem uncomfortable to some for sleeping inside at night.
Honda CR-V
The Japanese car will be convenient for both city driving and country camping. The Honda CR-V has many advantages for comfort and affordability. The removable rear seats will provide extra trunk space for sleeping.
Ford Escape
The all-wheel drive of this reliable vehicle makes it an ideal car for exploring new places. The interior can be changed by removing a seat, but is far from ideal. Just like the model's fuel economy.
Jeep Cherokee
This is a small SUV that will appeal to tourists and car enthusiasts. It is one of the best options if you are looking for a vehicle to sleep in. It is spacious enough for sleeping. The vehicles seats can be lowered to give passengers more headroom, while the second row folds down to form a platform.
Chevrolet Equinox
This is one of the best cars to get a good night's sleep in. The cabin layout allows for room in the back, even with an air mattress or sleeping bag.
Minivans
Kia Carnival
Korean minivan is well suited for traveling for two. It has plenty of storage space for your belongings, including an air mattress, sleeping bag and suitcase. Sleeping in its cabin will be comfortable enough.
Honda Odyssey
This car has plenty of comfortable and luxurious features for a good night's sleep on the road. When folded down, the rear seats turn into a full-fledged sleeping area.
Toyota Sienna
This versatile vehicle can accommodate eight people. It is well known for its reliability, great fuel economy and quite powerful engine. That said, the Sienna has enough cargo space to provide plenty of room for sleeping.
Cars and hatchbacks
Nissan Note
This is the perfect compact sleeper vehicle that will fit all of your travel essentials and still have room to spare. The Nissan Note is slightly larger than its competitors in terms of dimensions. It offers outstanding driving performance and excellent fuel efficiency.
Honda Jazz
This car has a large interior, soft front seats, a spacious back row and a practical cargo area. Although opinions on the handling are different, the Jazz is sure to provide comfort on a road trip.
Volkswagen Golf Sportwagen
Volkswagen has a reputation for making the most comfortable cars. The Volkswagen Golf Sportwagen is a good example. It's a great vehicle that can be used for both sleeping and luggage storage. It will also please with a panoramic view and a powerful 1.8-liter turbocharged engine on a road trip.
Hyundai Veloster N
As a hatchback, the Veloster has plenty of room for overnight stays on vacation and delivers good performance for its money. The Veloster is the car for those who want the turbocharged engine to accelerate quickly but still have plenty of room behind.
Earlier OBOZREVATEL published a rating of the most practical used cars with a spacious interior.
Subscribe to OBOZREVATEL channels in Telegram, Viber and Threads to be aware of the latest events.