Trending:
To always look new: how to care for your sneakers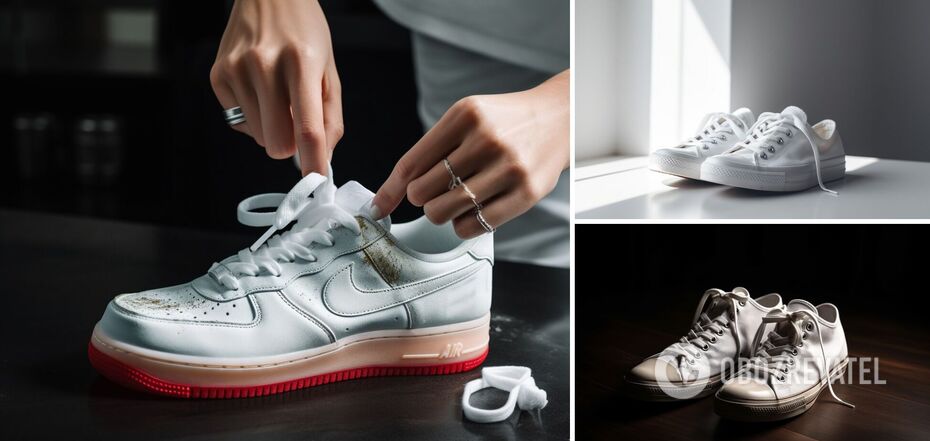 How to wash sneakers correctly
Perhaps everyone has a pair of favourite sneakers that are so versatile and comfortable that you want to wear them at every opportunity. Of course, over time, shoes lose their presentable appearance.
Simple tips will help you keep your favourite pair of sneakers in perfect condition, regardless of whether they are fabric or leather, white or coloured. Read the OBOZREVATEL article on how to care for your sneakers.
General rules
Experts recommend treating your sneakers to prevent moisture. It is better to do this immediately after purchase, but you can also do it after use, as long as the shoes are washed and clean. The water-repellent spray should be sprayed at a distance of 15-20 cm from the shoe. Such a coating will not only save your feet from getting wet, but also protect the surface from dirt and dust accumulation.
Every time you return home, you should wipe your sneakers with a soft cloth. And it is advised to put sheets of newspaper compressed into balls inside. This will prevent deformation and eliminate the smell of sweat.
Manual cleaning of sneakers
A soft brush and towel will help you clean your sneakers at home. A shoe conditioner, powdered solution or even dishwashing gel will do the trick.
First, remove the dirt with a dry brush. Add a few drops of the detergent of your choice to a container of lukewarm water. It can be
dishwashing gel
½ spoon of washing powdera
paste made from baking soda and water (only suitable for light shoes).
Using an old toothbrush or sponge (depending on the material of the shoe), apply the detergent to the surface and wipe in a circular motion until a lather forms. Strong friction can cause discolouration and damage, so be careful. Then remove any residue with a damp cloth and wipe with a microfibre towel. Be sure to wash the insoles.
Machine wash
You can machine wash sneakers made of synthetic materials. Leather and suede models are best washed by hand.
Before washing, remove the laces and soak for 30 minutes in warm water and detergent.
You can wash at low temperatures and use washing powder carefully - if there is a lot of it, it can remain on the shoes in the form of a coating.
Dry the sneakers in the fresh air for at least 8 hours.
Earlier, OBOZREVATEL told what sneakers are in fashion in spring 2023 and what to wear with them to look luxurious.
Subscribe to OBOZREVATEL's Telegram and Viber channels to keep up with the latest news.