Trending:
5 models who challenged beauty standards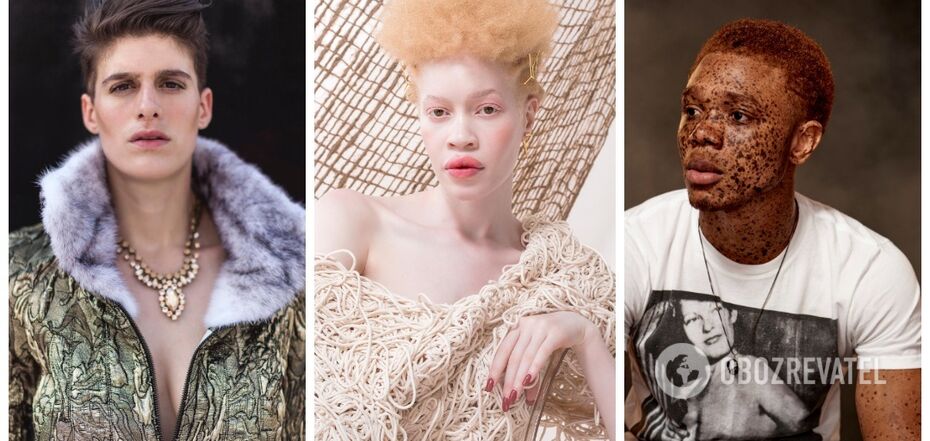 Models who have a unique beauty.
Fortunately, beauty standards for models have changed. Perfect symmetry, tall stature, a slim body and even skin tone - all these stereotypes of beauty have been questioned in recent years. Many successful models today demonstrate that being different is also beautiful.
In the OBOZREVATEL article, find out which models have inspired the fashion industry to rethink the vision of beauty. It's hard to look away from them.
1. Mama Kax
American model Mama Cax was an activist for the rights of people with disabilities. Born in Haiti, she was diagnosed with osteosarcoma and lung cancer at the age of 14. Two years later, she had a hip replacement that failed to take, leading to the amputation of her right leg. Later, Cax said that it took her several years to regain her self-confidence and not hide her prosthesis behind her clothes.
The future celebrity later earned a bachelor's and master's degree in international relations. And in 2016, her life changed forever: Her mother was invited to the White House to participate in a fashion show hosted by then US First Lady Michelle Obama. After that, Cax signed a contract with the JAG Models modeling agency and starred in advertising campaigns for Tommy Hilfiger and Sephora. The newly minted model also walked the runway for Chromat and Fenty Beauty.
While in England in December 2019, Kaks was hospitalized for severe abdominal pain and blood clots in her lungs. She died in the hospital on December 16, 2019. Despite her tragic fate, Mama left her mark on the fashion industry by showing that people with disabilities can also be professional fashion models.
2. Deandra Forrest
Deandra Forrest, an African-American top model and fashion model, is a woman with albinism. Her hair is naturally light, her skin and eyebrows are white, her eyes are green, and her lips and nose are clearly African. As a child, Deandra was bullied at school because of her unusual appearance, and her parents transferred her to the New York Institute for Special Education, where she lived with other albinos.
When Forrest grew up, a young photographer, Shamir Khan, spotted her while shopping and told her that she was "beautiful and should be a model." Deandra decided to give it a try. After two months of work and auditions, she joined Elite Models NY. It was the first time an albino model signed a contract with one of the leading modeling agencies. Now she works with such giants as MAC, Vivienne Westwood and Jean Paul Gaultier.
3. Suffran Ralph
Dark-skinned and with a lot of freckles, Souffran Ralph is originally from Haiti. At the age of 9, he moved to Brooklyn with his mother, where he was bullied at school for being different. In high school, Suffran fell in love with exercise and fitness: it allowed him to turn his body into a "work of art" and change the way his peers viewed him.
At the age of 13, the boy was practicing in the park. Photographer Aaron Taylor noticed him and asked him to take a picture. This situation inspired Ralph to create an Instagram page and develop it as a blog. And it worked! He signed a contract with Yeezy, and later said in an interview: "People accept me now, and I love my uniqueness. Thanks to my freckles, I can provide for my family and lift them out of poverty."
4. Rain Dove
She is an American androgynous model, actress, and activist, best known for her work in fashion as a gender non-conforming model (she can appear as both a man and a woman in photo shoots and shows). As a child, Rain Dove considered herself ugly because she constantly compared herself to other girls who were not like her. When she grew up, she decided to use her unique beauty for her career. She agreed to advertise men's clothing in Calvin Klein ads. Then the designers set a condition: "Swear to God, you will not tell anyone that you are a woman!". After the promotional campaign, the girl began to be actively invited to both women's and men's catwalks in New York.
5. Lindsay Wixon
American fashion model Lindsay Wixon has a unique beauty. She has naturally plump lips, nicknamed "pouty rosebuds" in the fashion world, and a noticeable diastema between her front teeth. In middle school, the girl was bullied: the tooth gap was called a "parking lot," so she hated her appearance. At the age of 12, Lindsay was often approached by strangers on the streets and told that she could become a model. So the girl began to consider it as a possible option for her future profession. Soon after, Vixen was able to take part in photo shoots for Chanel, John Galliano, Versace Vanitas, Miu Miu, Jill Stuart, and Alexander McQueen.
Earlier, OBOZREVATEL wrote about a "frightened elf", an "angel with sad eyes" and three other models with unusual physical features.
Only verified information is available on our Telegram channel Obozrevatel and Viber. Don't fall for fakes!